The ABCs of travelling with children
Part 4: The feared meal time
Eating experiences for adults and children sometimes differ radically.
The meal time may be a real ordeal for the traveling family. What will we eat? And where? And what kind of chaos will it be? We collected many familiar situations throughout the day.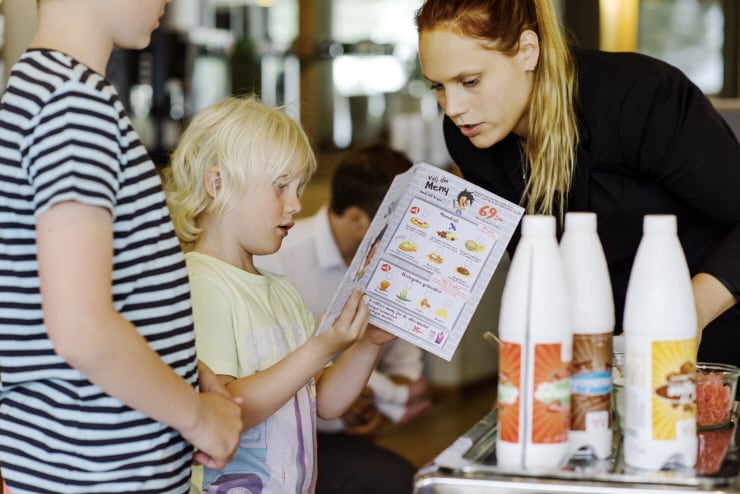 Breakfast
Breakfast is the most important meal of the day, and it has an exceptionally big meaning while on a hotel holiday. A hearty breakfast ensures that the entire bunch is ready for exploring the town or an amusement park escapade.
What you see: Different fruits and vegetables — for once, no chopping!
What the kids see: Pancake buffet. And sausages.
Lunch
Being on holiday can be a real ordeal, and stopping to eat in the middle of having fun offers (at least for the adults), a welcome break to catch one's breath from the activities.
How long does it take you to eat: A half hour.
How long does it take a child to eat: A half second.
Snacks
Meals are enjoyed with abandon on holiday and often by slacking on healthy eating habits. Quite often hunger hits you like a bolt out of the blue, and a snack must be immediate and now, even if in a vehicle, at the amusement park or if you are going to have a meal in a half hour.
Where would you wish for the snack to be: In the belly of the child.
Where is the snack, actually: On the ground, on their shirt, all over their hands, on the phone screen, in the stroller and in the mouth of a seagull.
Dinner
On holiday, evening dining has a special glow, but the experience of a meal over several courses can be a bit different in the eyes of smaller travelers.
How do you feel: A lovely breather after a bustling day, and an opportunity to enjoy good food.
How does the child feel: Time is passing slower than ever before.
However, one thing is the same for children and adults: when the belly is full after a long fun day, sleep comes quickly.
Breakfast at Scandic always features a broad selection for every taste. At dinner, children can assemble their favorite dishes from the Sigge menu or order children's portion from the à la carte menu at half price. Also, at many Scandic hotels, there is a play area or play corner connected to the restaurant.
How does the holiday look through the eyes of a child? Watch the video series!
Book - best price guaranteed