Lottie Knutson: "WHO HAS BALANCE IN THEIR LIFE, REALLY?"
She was named a national heroine for her handling of the tsunami crisis in December 2004, but she wasn't looking for glory. Lottie Knutson gives us her view of leadership in an ever-demanding working life. Meet the board member who feels most at home at her country house in the archipelago, and is brutally honest – be it compliment or comment.
Lottie Knutson, then Director of Communications for Fritidsresor, was one of the first to understand the severity of the tsunami that hit Indonesia and Thailand on Boxing Day 2004. Overnight, she was hailed as a national heroine and it was suggested she should become Foreign Minister. But she wasn't comfortable with the glory.
"It'll go downhill anytime soon"
"I always expect the worst, so I went around thinking that it would all go downhill anytime soon. Just like everyone else, I'm not perfect, and the way I was being portrayed felt strange and not quite real. There are two lessons to be learned from most crises, the necessity for making quick decisions and just how hard it is to do that. I was deeply affected by the tsunami; what's important and what isn't, what my values really are", she says.
Need for a more varied life
After over 15 years at Fritidsresor, Lottie chose to leave her position in 2014 as Director of Communications at the company. At that time, she had already been on leave for a few months to write her book, "Nödrop", when the crisis happened. The book discusses topics such as the efforts behind the scenes of the tsunami, as well as during other crises such as redundancies. Whilst working on the book on a plane to India, her body protested. She began to feel unwell on the airplane, to hyperventilate, and she lost the feeling in her hands and feet.
"It was almost ironic that it happened when I was starting work on a book about handling crises. I felt as though I had lost much of what made me who I was. The decision to leave Fritidsresor was made, I wanted to try something new and have a more varied daily life", she says.
Travelling board member
These days she has board assignments for H&M, Stena Line and Scandic Hotels and travels extensively to talk about the themes in her book. This particular day she is going to Grand Hôtel in Stockholm to speak in front of 700 people, including the former Finance Minister, Anders Borg.
"I'm a little tense, but I don't get nervous. I feel like I don't want to disappoint anyone in the audience, as they are there to listen to me and have sometimes paid money for that", she says.
Candid compliments or comments
Lottie is fascinated by traditional family companies where they sit and make plans for the next 30 years, and she is unashamedly interested in customer behaviour. So it's no coincidence that she is on the boards that she's on. Lottie is the one in the boardroom who doesn't always succeed in keeping quiet, she says jokingly of herself. She is the straight-talker, but also the one with genuine dedication and interest.
"I'm very candid. But too much straight talking can be perceived as criticism and can put people on the defensive, and that isn't good because then they stop listening. It's important to allow time for emphasis; each personality must be listened to. I give candid compliments and comments, but at least it means people trust what I'm saying. I want to be able to exemplify what I'm saying and who I am, I prefer to think long-term and I'm honest", says Lottie.
It's okay not to be friends at work
Along the same lines, she has said that she finds the term "workmate" strange. Lottie doesn't want to be friends with everyone at work and thinks this is okay.
"We aren't there as personal friends who have to like each other. We are there to get a job done together, something that often gets forgotten when things get messy. The fact is that working groups with a more objective approach can handle difficulties better than groups that are focused on personal relationships. This is also where misused employee surveys can be risky, leadership is not a popularity contest. Difficult decisions have to be made sometimes. If you happen to like lots of people at work, that's a bonus", says Lottie. Lottie's career has been intense and her world is all about selecting and discarding.
"Who has balance in their life really? I've chosen to work a great deal and, beyond that, I have prioritised family. I haven't had time to go out to restaurants. When friends want to meet up, they come for a barbecue at our country house in the archipelago. Ambitious dinner invitations on an exhausted Friday evening are banned in our family", says Lottie.
Crises require preparation
Lottie worked in crisis management before and after the tsunami, on both intensive, emergency crises and more long-term less intensive crises which can be just as difficult. According to Lottie, preparation is the key to handling a crisis.
"It's not necessarily about something big such as preparing for all the servers crashing, it could be about preparing for something like a difficult conversation, such as dismissing a team member. I used to make my HR colleagues practice conversations like these with me at Fritidsresor. The most important part of preparatory practical exercises is to gauge one's own reaction and that of colleagues. The practical exercises should be carried out in teams, everyone reacts differently and all types of exercise are necessary", she says.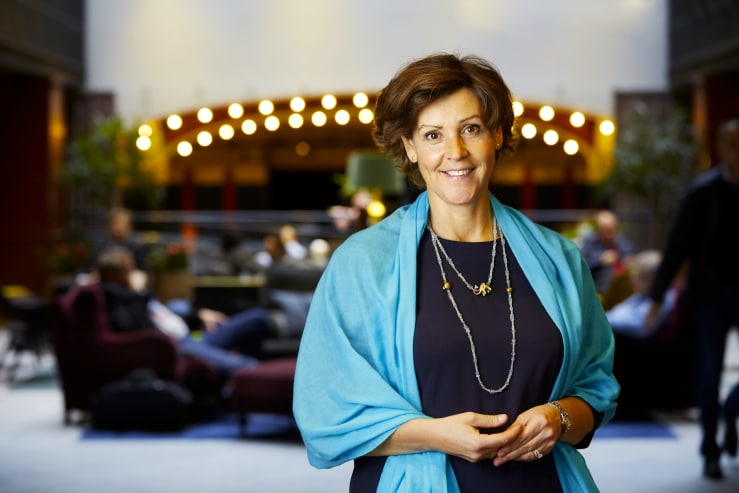 Even soldiers in war take a break
Another important part of handling a crisis is to take a break. She draws inspiration from the uniformed occupations such as nurses, ambulance drivers and soldiers, who take their uniforms off when they leave work.
"They have no choice but to switch off. This is vital to conserve energy, we need to take care of each other and ourselves. I take off my work clothes as soon as I get home and put on something comfy. It gives me a clear end to the working day", she says.
Keep your professional and private identities separate
"It's important to distinguish between your professional and private identities. Work is work and is not the same as what I do when I'm not working. I find that I very often need to remind myself of this. Every one of us sets off to work each morning and then comes home. But without a distinction between our working life and private life, we become vulnerable. We have nothing to fall back on when times get tough due to things like stress, conflict or redundancies", says Lottie.
Leadership in an ever-demanding working life
She is currently pondering the issue of leadership in a working life where pressure is increasing and becoming a constant. We are expected to be available around the clock and natural breaks are a thing of the past.
"An intense day at work is manageable, so long as there's an end in sight. It's high-intensity crisis situations, without breaks or endings, which cause us to not be able to handle more. There is a tendency these days for people to behave like martyrs, staying late into the evening or night at work. That's when we need to look after ourselves and set our boundaries. It's like the air hostesses say, that you need to put on your own oxygen mask before you can help anyone else. I think more and more managers are starting to understand the importance of taking breaks", she says.


Writes travel articles
Over the past year Lottie has resumed her previous career as a journalist. Just for fun, she writes articles for a travel magazine. Before her time at Fritidsresor, she was employed at SAS and Lottie admits that all her years in the travel industry have affected her.
"When we go on holiday I go around checking the hotel, I want to get a feel for the atmosphere and the service. The most important things at a hotel are the beds and the pillows. I'm a real hotel geek. My family have had to learn to accept it", she laughs. Lottie's best tips are to sleep at a hotel near the airport when travelling, so you wake up well-rested and in a good mood before the holiday, instead of being exhausted because the whole family has been up until four in the morning.
Regained her curiosity
Lottie radiates contentment with where she is today and says she feels she now has that varied everyday life she longed for. She has regained her curiosity, she loves digital development and likes to meet people who are experts in the field, for conversation and inspiration. She has also had the opportunity to pursue her personal interests again, and most people can probably guess what this is by now. Exactly, travel.