Summer in Rovaniemi
Rovaniemi is best known as a winter destination, but it is also worth travelling to the capital of Lapland during the summer. Enjoy the midnight sun, the magic of the Arctic Circle, the unique nature of Lapland and the sports opportunities offered by the city.
An intriguing summer destination
A practical shopping town
You will find many shopping opportunities and restaurants in downtown Rovaniemi. The small city centre is quite compact. All necessary services are located within walking distance of each other. The most important shopping destination of the city centre is Kauppakatu (Market Street).
Enjoy the magnificent scenery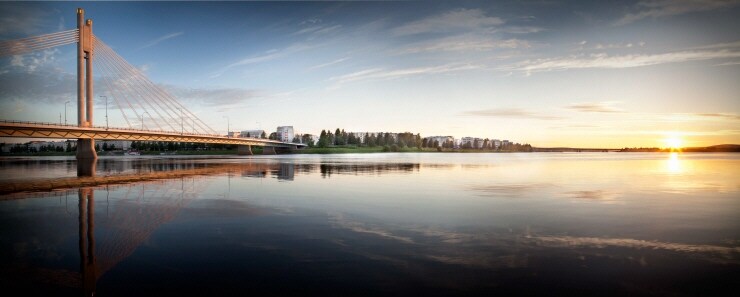 Experience the nightless night and admire the midnight sun on the Jätkänkynttilä or Ounasjoki bridges, on the banks of the Ounasjoki river or on the top of the Ounasvaara hill.
Spend a summer day full of events

Rovaniemi offers plenty of museums and cultural experiences. Get to know what the culture house Korundi and the Rovaniemi Art Museum operating in it have to offer. The Arktikum science centre, located near the city centre, offers a chance to get to know the nature and history of the North. It also houses the Provincial Museum of Lapland. The Forestry Museum of Lapland offers sights to those interested in Lapland's forestry traditions.
There are numerous events in the city centre during the summer, entertaining both locals and tourists, such as the Lapin Kullan kimallus (Glow of Lapland Gold) festival, held in July, and the Simerock festival and Iskelmä Kesä (Pop Song Summer) event, held in August. Numerous sports events also attract active summer holidaymakers to Rovaniemi. During July the Rovaniemi Marathon is run and the Santa Claus Cup youth football tournament is played.
Lappish summer

Try fishing or paddling on the Kemijoki river. For more speed, ride a water scooter, water ski or water board. Admire the beautiful views from a ski lift at the Ounasvaara ski centre. Lappish forests also offer plenty of nature trails and guided tours, such as trek riding and husky rides in a summer cart.
Our hotels in Rovaniemi, are conveniently located in the city centre, next to a pedestrian street: