Hamburg with kids
Are you travelling to Hamburg with the whole family? Don't worry, you don't need an organisational miracle. We recommend our 5 secret tips for discovering Hamburg with kids. From wonderful destinations to exciting activities, games and adventure, it's not only the kids who'll be enthusiastic about these child-friendly Hamburg tips.
Enjoy nature in Hagenbeck Zoo

Photo: Hagenbeck/Toni Gunner
100-year old Tierpark Hagenbeck is the oldest zoo in Germany, and its popularity extends way beyond Hamburg. Find out about more than 1,800 animals from every continent. The zoo school is just for kids: celebrate their birthday here or take an exclusive tour.
Run wild at Grasbrookpark playground
Right in the heart of this stylish harbour city, in the Speicherstadt district, is one of the most amazing kids' playgrounds. In Grasbrookpark on Hübenerstraße there's an abundance of play equipment, wooden climbing frames, large grassy areas and shady trees. From the playground, there's one of the most beautiful views in Hamburg of theElbphilharmonie concert hall.
Take part, learn and understand at the KLICK Children's Museum

Photo: Klick Children's Museum
In the Klick Children's Museum in Hamburg-Osdorf, kids can try out, ask and touch everything, and experience the museum with all their senses. In the different areas, 'Great-grandmother's everyday life', '10,000 B.C./Stone Age' or 'Building site – please enter', kids learn about history and everyday life through play.
Discover small worlds at Miniatur Wunderland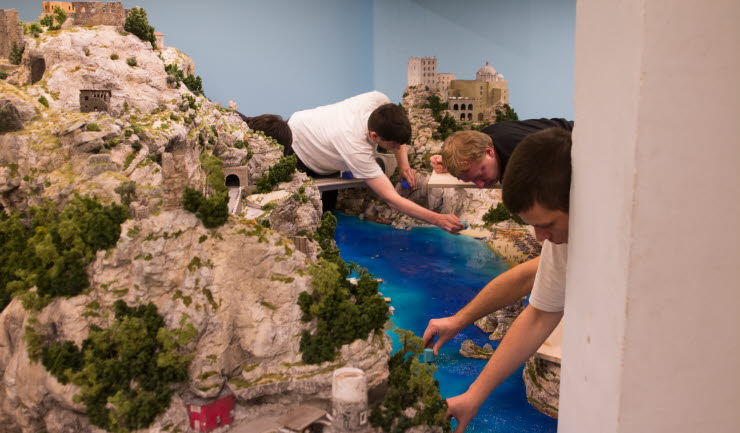 Photo: Miniatur Wunderland
One of the most successful exhibitions in Europe is the Miniatur Wunderland in Hamburger Speicherstadt. The miniature worlds have now increased to 9 countries – with no end in sight. A perfect day trip for young and old alike and great fun even if you're not a model-railway fan.
Rollercoaster dinner
If you get hungry after all the excitement, don't miss a visit to the rollercoaster restaurant 'Schwerelos' (Weightless). Families with kids are more than welcome here. Burgers, pasta and fish whizz through the restaurant in pots on rails straight to your plate. A must-see!
Scandic Hotels are perfect for families
Discovering Hamburg with kids is double the fun. Parents can enjoy their city break and stop by at child-friendly attractions whilst seeing the sights. Scandic Hamburg Emporio is the ideal base for a city break to Hamburg. Our hotel is centrally located at Gänsemarkt square and is a short distance from the Speicherstadt district. Don't forget, children under 13 years stay for free at Scandic!