Visit Skara Sommarland
Stay at Scandic Billingen in central Skovde and bring the family on an amazing adventure to Skara Sommarland. Book our hotel package with overnight stay, entry to Skara Sommarland and a large breakfast buffet.
ENTERTAINMENT PARK CLOSE TO Scandic Billingen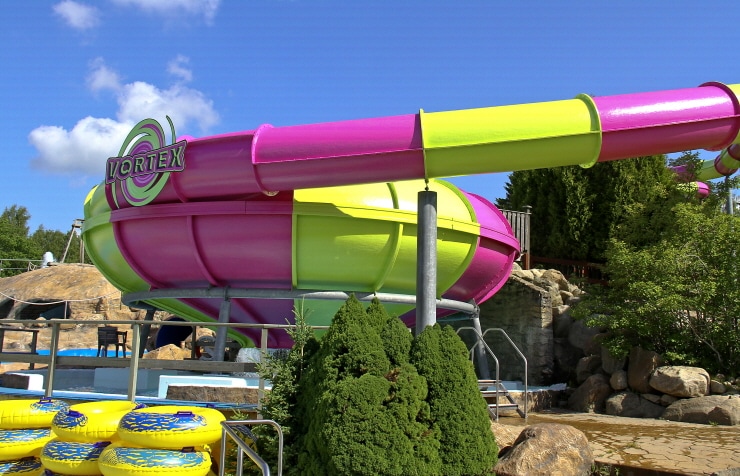 Skara Sommarland has an incredible water park, heated pools and water attractions for all ages. New this year is Cobra - an intense and visually striking water attraction where 4 people together experience the feeling of weightlessness. Only 20 minutes away by car.
Cobra - designed for Skara Sommarland
Cobra has been specially designed for Skara Sommarland and is the first attraction of its kind in Scandinavia. Four people sit facing each other on a rubber-raft shaped like a four-leaf clover in an 116 metre long water slide. The raft travels through a pipe that suddenly opens up, and then a giant wall appears like a wave that you are swept along on.
What's included?
Price
From SEK 2,566 per family and night with max. 1 extra bed (2 adults and 2 children under 13 years of age).
Please note! You need to buy entry tickets to the small children who are sleeping in adults bed. Tickets are availalbe to buy at the hotel reception.
When can we stay?
Between 2-6 June and all days between 9 June-20 August 2017.
How do I book?
Book online with booking code QSKARA

The small print
Subject to availability. May not be combined with other offers or discounts. Bookings can be changed or cancelled up until 18:00 on the day before arrival. Payment taken on arrival at the hotel. You receive the entrance tickets at the hotel.
Booking conditions