A walk in the park
As the globetrotter I've become, I always track down doggy-friendly green parks and spots close to the hotel I stay at. Check out my favorite places here, and give your master a tip next time your stay at Scandic.

Doggy-friendly spots
Sweden
Gävle

With lawn outside the door with adjoining wooden area, this is a paradise if you have to leave the room quickly.
Halmstad

Around 200 meters from the hotel you find a nice park to take a stroll in.
Kalmar

Just accross the road you find a field and a nice forest. There is a good change that you will be unleashed.
Karlskrona

A little islands with cliffs which are perfect to jump from. Not very appreciated by my master but fun for us.
Linköping

Green spots and walkways just around the corner.
Luleå

A nice city with plenty of nice places in every direction from the hotel.
Lund

A park just outside the door. Nice and quit, I'm often the only dog there.
Malmö

A block away you find a big park with lots of friends to play with and your master can exchange a few words with mine.
Green areas just around the corner
Norrköping


Perfect place with a lot of grass and hiking areas close to the hotel.
Stockholm

On the opposite of the hotel it's a park called Humlegården. Thank's to the fence I'm allowed to run freely.
Sundsvall

A slope to bounce around at and a forest behind the hotel. Perfect for the morning walk.
Umeå

The city of birch! There is a passage with them nearby that fits for a short walk.
Växjö

In Vaxjo you have both green areas and a forest just outside the door.
Östersund

Nearby it is a big lawn on which you can run around.
Norway
Alta

Here you can find many green areas in all directions from the hotel.
Bergen

Just across the street there is a little lawn and a small forest.
Less than 100 metres from the hotel there is a park with a big pond with water in the middle. The only sad thing is that we are not allowed to jump into it nor to be unleashed.
Bodö

There is a nice spot by the church around 250 metres from the hotel.
Forde

Around 150 meters from the hotel there is a big park area.
Hamar


Walk 50 meters and cross the street and you find a big park. Perfect for a nice longer walk.
Oslo

If you like to swim this is the place for you. A lawn just outside the hotel and 100 meters away there's a lake.
Tromsö


There is a park 250 metres from the hotel, not so big but very nice.
Trondheim

Just cross the bridge and you will find a small grean area on both sides.
Perfect distance - a lawn just outside the door.
A very nice place with fields and a lot of green areas among the villas.
Denmark
Copenhagen

You find a long boardwalk along the water and some greenery a few meters from the hotel.
Horsens

At the back of the hotel you find a big park where you can stroll around.
Finland
Helsinki

Just cross the street and you are in the middle of a big green park.
Germany
Berlin

Imaging a grass slope where you can play apport with your master in the middle of a big city. And just behind the hotel there is an area with fence.
Hamburg

Watch out for cars when you cross the street. A tip is to walk the 150 meters to the zebra crossing. Then you enter the big park.
Meet our dear Dixi – a true star at Scandic!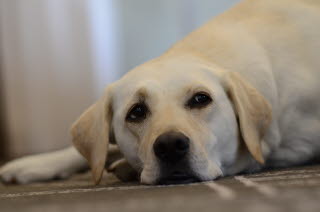 Dixi - a pro and specialized trained in helping people with disabilities. A warm hearted colleague that loves to mingle. When duty doesn't call, she sneak away to get treats from team members.