Sápmi Park
In Sápmi Park you can experience Sami culture and history in an entertaining and engaging way.
Experience The Magical Theatre 'Siida' with reindeer, Sami handicrafts, souvenir shop with its own silversmith and tax-free refund, glassblower, Storgammen restaurant, tourist information with currency exchange and café.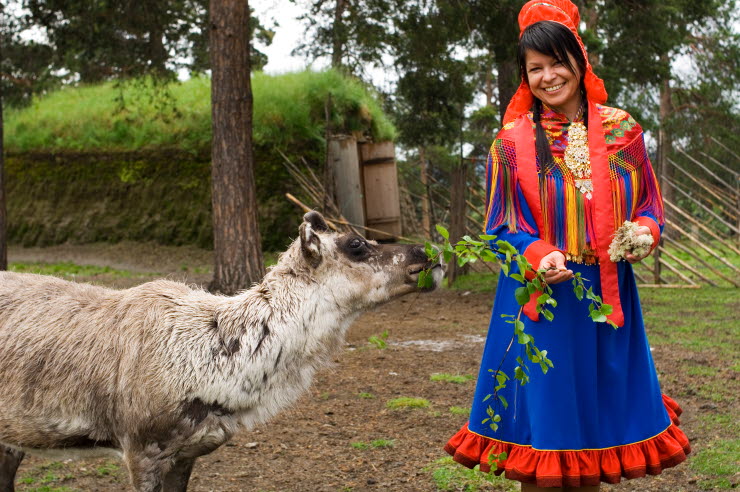 Activities
Activities in Sápmi Park, every day during the period 19 June–13 August
: 11:00 Feeding the reindeer
: 12:00 Joik (chanting song of the Sami people)
: 13:00 Lasso throwing
: 14:00 Feeding the reindeer
: 15:00 Lasso throwing
Entrance
| | |
| --- | --- |
| Adults | NOK 160 per person |
| Children under 12 years | NOK 80 per person |
| Families (2 adults and 2 children) | NOK 400 |
Food options
KAFÉ SÁPMI
Kafé Sápmi is located in the main building at Sápmi Park. Here you can enjoy light meals, barista coffee and cold drinks. The café is open in the summer period, 1 June–31 August.
RESTAURANT STORGAMMEN
Taste Sami cuisine
In addition to reindeer meat and cloudberries, Sami cuisine offers many dishes made from fish, game and berries. Your visit to Sápmi Park won't be complete without a Sami meal, and Storgammen is an outstanding eatery in the middle of Sápmi Park. Restaurant Storgammen was built with inspiration from four traditional 'gammes' (Sami turf huts) and can accommodate 120 guests.
Restaurant Storgammen is open every day 11:00–22:00 in the summer, 8 June–30 August.
CONTACT
Telephone: +47 78 46 89 80
Email: sapmi@sapmipark.no