10 insider tips for Lofoten
Lofoten has a great selection of activities, but it may be difficult to prioritise what you should do if you have limited time available. To make it easier to choose, we've compiled a list of the top 10 things to do in Lofoten with help from our local experts and employees. We have hotels in both Solvaer and Leknes, which are great starting points to explore the world's most beautiful archipelago of islands – just like the locals do.

1. Surfing at Unstad
Ylva Vildem, Receptionist, Scandic Leknes Lofoten
"Unstad is a really cool place. The world's best surfers gather here, as Lofoten has some of the best surfing beaches in the world. In addition, water temperatures make sure that it's less crowded on the beach and you might be lucky enough to enjoy the waves to yourself. Even if there's a growing number of Norwegian and foreign surfers flocking to Unstad, it's still considered a rare surfing frontier. We collaborate with Unstad Arctic Surf, and our hotel guests have access to surf lessons and equipment rentals."
2. Hauklandstranda and Uttakleiv
Sylvi Paulsen, Receptionist at Scandic Leknes Lofoten
Here are 2 tips in one! Haukland beach offers incredible views and is one of the most popular attractions in Lofoten, and for good reason! The beach is covered in white sand and has turquoise blue water, nested below dramatic mountain peaks along the shoreline. "If you're looking to see Haukland from above, I recommend hiking to Mount Mannen. It takes about 30 to 60 minutes and offers some of the most stunning views of Lofoten. If you have to pick one hiking trip, this is the one," says Sylvi! Mount Mannen divides the Haukland and Uttakleiv beaches. The best place for a glimpse of the Northern Lights is Uttakleiv, and many locals gather here to enjoy the spectacular views.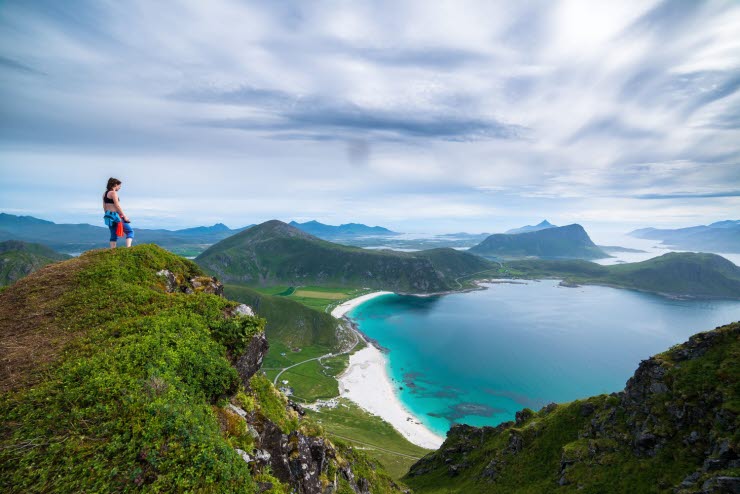 HAUKLAND BEACH: The views of Haukland from the top of Mannen are unforgettable.
3. Lofotr Vikingmuseum
Kjetil Kvalvik, Operations manager, Scandic Svolvær
"The Viking Museum takes you back to a time where life was less complicated, but much less comfortable than our modern lives. The largest Chieftain house ever discovered has been dug up and stands 83 metres long in its full size. The Museum shares Viking history in an engaging manner, and I always recommend that our guests pay a visit to this place. The Museum also offers events with food and beverages served in true Viking style, and guests get the chance to meet the people on the farm and the Chieftain himself. These events are incredibly popular, especially for hosting kick-offs or group events."
4. Djevelporten (Devil's Gate)
Gunhild Elisabeth Laundal, General manager, Scandic Svolvær
"This is a spectacular rock formation, placed right above a huge gorge in the mountain, between the peaks of Frosken and Floya. Djevelporten is a popular place to photograph, so make sure to bring your camera. This is a relatively simple hike, aside from the steep climb, right next to Svolvaer."
5.
Fishing in Lofoten
Ivan Aksberg, chef, Scandic Leknes Lofoten
"Arctic Cod is synonymous with Lofoten. The best time for cod fishing is during the period January to April. The largest fish weighing 30-40 kg are caught from a boat, and if you don't have your own boat, there are plenty of boat rentals to choose from. There's honour and glory in cod fishing in the region. Lofotposten started a tradition 40 years ago, giving away a kilo of coffee to all fishermen who caught a cod weighing more than 30 kg during the Lofot season. That's where the name Kaffetorsk (Coffee cod) comes from. For added competitive spirit, the World Championship in Cod fishing is hosted in Svolvaer in March and is considered one of the largest fishing competitions in the world." If you wish to sample the cod without going fishing, Ivan recommends a visit to Anitas Sjømat on the Sakriss Island. "This place is 'world famous' for its homemade fish burgers and offers a great selection of fish and various seafood!"
6. Ryten (543 metres above sea level)
Lene Martinsen, restaurant manager, Scandic Leknes Lofoten
"Lofoten is often associated with mountain hiking, and one of the most magnificent hikes is Ryten, north of Kvalvika beach. There's no better place than this to watch the sun set in the ocean. Make sure that you bring a fully charged phone, because you'll take lots of photos here! The hike is about 5 to 8 hours, including the return. This is an amazing hike in the winter time." Note! Kvalvika beach, right below Ryten, is a very exposed area in Lofoten and we therefore recommend that visitors head to other beaches than this particular one.
7. Kaviarfabrikken (The Caviar Factory)
Sanne Abrahamsen, receptionist, Scandic Svolvær
"At the Caviar Factory, you can sample contemporary Norwegian and international art in historical surroundings. From 1950 the building in Henningsvaer was used in caviar production and is a well-known landmark in the region. The building has been exposed to heavy weather conditions, which have left their mark through the years. Renovation work started in 2006 in order to save the building, and famous names such as Michael Sailstrofer and Bjarne Melgard have contributed to the renovations."
8.
Glasshytta på Vikten (The Glass Hut at Vikten)
Marianne Larsen, Front office manager, Scandic Leknes Lofoten
First the fishermen came to Lofoten, then the artists followed. It was in the glass hut at Vikten that Åsvar Tangrand started his glass blowing business in 1976, the first person to do this in Northern Norway. The hut has a great glass art exhibition. See the artist in action and purchase some of the art to take home. The gallery is located in wild and beautiful surroundings and is perfect to combine with a hike. In the summer, the glass hut has a café. You'll be at one with art and nature here, and a visit to the glass hut is great, whatever the weather."
9. Bunesstrand/Helvtestind (Bunes Beach/Hell's Peak)
Dag Kolstad Nilsen, receptionist, Scandic Svolvær
"You just can't miss another beautiful beach right next to a majestic peak. Most visitors to Lofoten will only see Hell's Peak as a massive mountain shooting straight up from Bunes beach. For some this spectacular view may be enough, but if you climb to the top of Hell's Peak, you'll experience an unforgettable sight, gazing down on the sparkling white sand and the turquoise water by Bunes beach. The trip starts with a picturesque ferry ride from Reine to Vindstad, where you then start your hike on foot."
10.Tjeldbergtind (Tjeldberg Peak)
Tina Dahl Olsen, front office manager, Scandic Svolvær
The perfect hike for the entire family! The hike is relatively short (approx. 2 hrs roundtrip), but the peak gives you a 360-degree view of the region, with Svolvaer to the south and Kabelvag in the west. Maximum reward for minimal effort, and a hike that's perfect for a weekend where the goal is to experience Lofoten and all it has to offer!"