When working in the reception
Each hotel is different, so be sure to familiarize yourself with the design and accessibility solutions at your hotel.

Counters at the appropriate height
Imagine you're a person that uses a wheelchair. How would you offer yourself a pleasant check-in experience? To make check-in go smoothly, many of our hotels have counters at two different levels.
What type of counter does your hotel have? If you don't have a counter at an appropriate height, how would you welcome a child? Or a person that uses a wheelchair or needs to sit down?
Vibrating alarm clocks
For guests with hearing impairments, there should be a vibrating alarm clock available at reception for them to borrow. The clock also functions as a fire alarm.
Make sure you know where the alarm clock is. Ensure that it is charged, set to the correct time and in good working order. You should also be able to demonstrate how it works.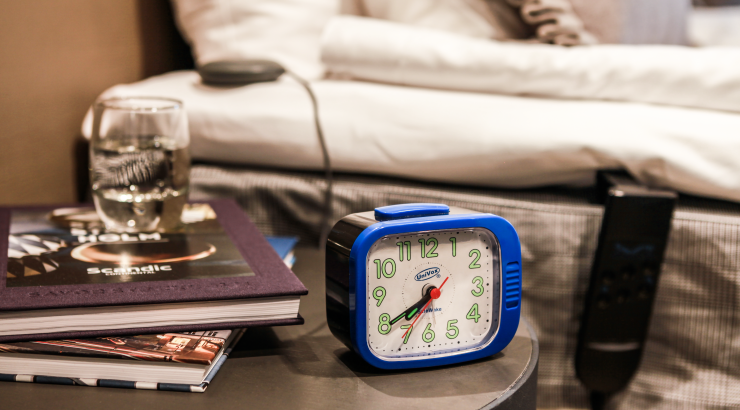 Hearing loop
There should always be a hearing loop at reception. It should be located close to the microphone, marked with the hearing loop symbol and easy for guests to spot.
Keep in mind that guests using the hearing loop setting on their hearing aids will be able to hear what you say when you're standing close to the microphone.
Create a great guest experience at reception
Keep passageways clear between reception and the elevators, and in all public areas. Make sure that it's easy for guests to get to their room from reception.
Offer suitable rooms and assistance
Always ask guests what kind of room they'd prefer and if they need anything in particular. It's a good idea to give a guest with accessibility needs a room near the elevator to make it as easy as possible for them to access their room and get around.
For guests with visual impairments, offer a smaller room so everything is close and easy to find. You can also offer to guide the guest to the restaurant in the morning or evening. If a guest has booked one of our accessible rooms or has difficulties walking, you should always offer to help them to their room.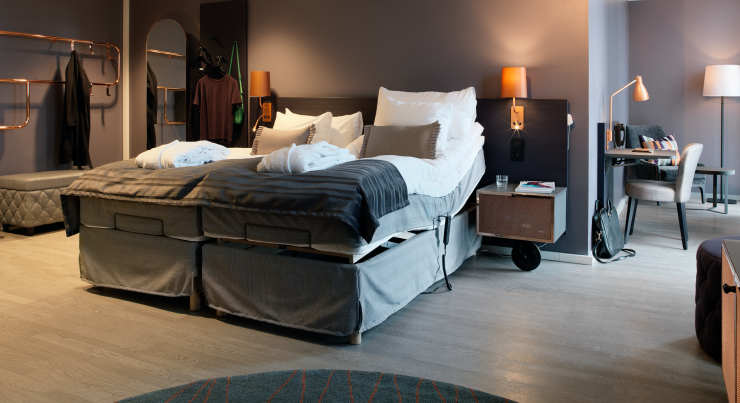 Meetings
When you set up a meeting room, remember to leave enough space for wheelchairs and always ask if anyone needs a hearing loop. Keep in mind that meeting organizers may not even know what a hearing
loop is, despite the fact that many people use them. In this case, you're the expert!
Remember to ask if anyone has food allergies or sensitivities to fragrances, for example, the scent of flowers. When using flowers, choose ones without a strong scent. It's also good to ensure a comfortable room temperature (not too cold), for example, when hosting organizations such as the Rheumatism Association.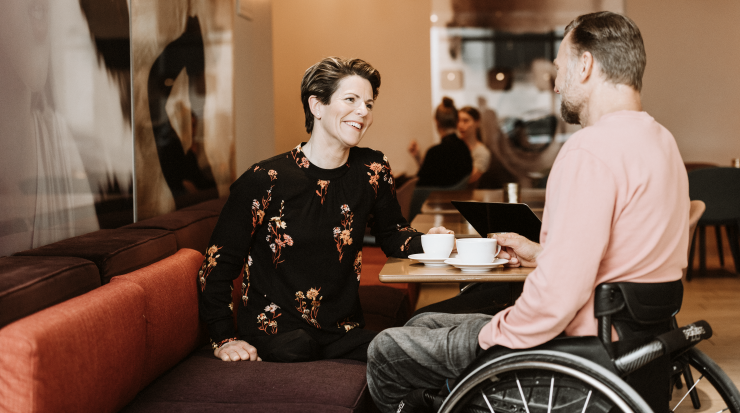 WHAT HAVE YOU LEARNED?
What other important functionality does Scandic's vibrating alarm clock have?
It has a built-in fire alarm.
It plays music.
What kind of room should you offer a guest with a visual impairment?
A large room near the elevator.
A small room near the elevator.