Norrebro
The aroma of southern spices in the greengrocers blends with the sweet fragrance of cinnamon from the organic bakeries. The cheerful sound of children's voices and the clatter of coffee cups form the background music to the bustling life at Sankt Hans Torv. Both young and old gather in the sun at the bridge, Dronning Louises Bro. Norrebro is one of the most diverse neighbourhoods in Copenhagen and is definitely worth a visit if your trip takes you to Denmark's capital city.
Norrebro - a district of diversity
Norrebro is located just a few minutes away from the centre of old Copenhagen. Norrebro has grown from a poor working class district into one of Copenhagen's most modern and sought-after areas to live in. Norrebro offers everything from designer shops to cafés and modern architecture.
Shopping in Norrebro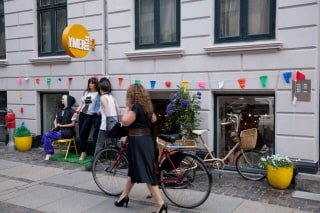 Just like in Vesterbro you'll find many small designer shops selling their own designs. The area from Norrebrogade down to Sankt Hans Torv offers in particular an abundance of shops. Take a stroll down Elmegade, for example, where your money will definitely go further. Ravnsborggade features a number of antique dealers and second-hand shops but more and more designer boutiques have appeared in recent years on this charming street. In the area around Norrebros Runddel you'll find Jægersborggade, a mecca for small clothing stores, goldsmiths and pottery makers.
Modern diverse architecture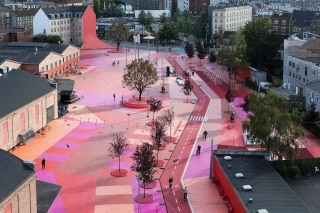 As part of the process of transforming Norrebro from a poor working class area into a modern city district, new architecture has given the neighbourhood a facelift. Superkilen, located on the border between Norrebro and the Nordvest district, is a modern tribute to the ethnic diversity in Norrebro. Objects have been collected here from all over the world and Superkilen now represents the more than 50 nationalities who call Norrebro home. Superkilen is divided up into 3 areas: Den Rode Plads (The Red Square), Den Gronne Park (The Green Park) and Det Sorte Marked (The Black Market).
Free activities in Norrebro
If you don't want your trip to Copenhagen to cost you the earth, there are plenty of free activities to enjoy in Norrebro. Take a peaceful stroll through Assistens cemetery, which has become a green oasis in the middle of the city. If you explore the many graves you'll find the headstones for Hans Christian Andersen, historic Danish physicist H.C. Ørsted and philosopher Søren Kierkegaard. In the summer, from April to September, there are free public tours of Assistens cemetery.
When the weather is nice you can't help but notice the crowds of people heading to the bridge, Dronning Louises Bro. The bridge, which has connected central Copenhagen with Norrebro since 1887, is a natural gathering place for people of all ages. Since 2011, benches have attracted sun-worshipping Copenhagen residents, but when the benches are filled, the locals resort to fence railings and even the footpath.

Restaurants, cafés and bars in Norrebro
Just like other neighbourhoods in Copenhagen, Norrebro is filled with restaurants, cafés and bars. The area around Sankt Hans Torv offers a variety of great coffee shops and cafés. Jægersborggade also boasts every type of cuisine. Try for example restaurant Relæ, featured on the list of the world's top 50 restaurants. Bæst, where organic fare is the focus, is the place for authentic Italian food, and the Asian cuisine at Kiin Kiin has been rewarded with a Michelin star. If you're looking for a slightly more casual atmosphere, stop by Sliders for burgers or outstanding toasts at Fætter Fætter.
Hotels close to Norrebro
Do you want to stay close to Norrebro when you visit Copenhagen? We have 2 hotels located a short walking distance to Norrebro and close to public transportation.