Nyhavn
Nyhavn is one of the most popular tourist destinations in Copenhagen. The harbour, once known for its maritime life, is constantly filled with people and boasts an always lively atmosphere. Some of Copenhagen's oldest tattoo shops and bars sit side by side with historic buildings in the old waterfront district. Nyhavn is also known as the place where Hans Christian Andersen lived, several times.
The New Harbour in Copenhagen
The old harbour district was excavated in the late 17th century and since the harbour would serve as a supplement to the existing harbour, it was given the name The New Harbour (Den Nye Havn later became Nyhavn). Ships from around the world arrived here, and Nyhavn therefore became a mecca for traders and craftsmen.
Today, the maritime life from the 17th century is long gone although you can still find old tattoo shops and pubs, reminiscent of days gone by.
The buildings in Nyhavn
The beautiful old buildings in Nyhavn are made up of civic buildings and warehouses from the 17th and 18th centuries. Painted in beautiful colours they are the subject of many postcards and holiday photos. The oldest building in Nyhavn is No. 9 dating from 1681. It has not undergone any renovation or extensions and stands as it did when it was built. The houses in Nyhavn are still residences and in most of them you'll find cafes, bars and restaurants.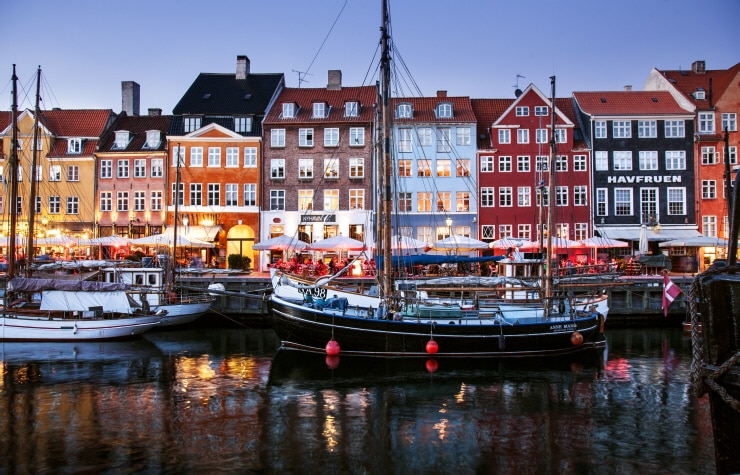 Hans Christian Andersen's Nyhavn
Hans Christian Andersen lived in Nyhavn several times. The first time the poet moved to Nyhavn was 1865. At that time he lived in No. 280, which today is No. 20. This is where he wrote his first fairy tale which was published in a booklet, including 'The Tinderbox', 'Little Claus and Big Claus', 'The Princess and the Pea' and 'Little Ida's Flowers'. Hans Christian Andersen subsequently moved to No. 67, where a memorial plaque has been mounted to commemorate it as the home of the world famous poet and author. Then Hans Christian Andersen moved to Nyhavn No. 18, which became his final residence in Nyhavn.
Hotels close to Nyhavn
If your tour takes you to Copenhagen, you should book a hotel close to Nyhavn. We recommend Scandic Front. Our hotel offers a view of Copenhagen's harbour and you are a few minutes' walk from Nyhavn.