Welcome to The Pool & Spa
You can enjoy pampered treatment at our relaxing and beautiful Artesia Spa or take advantage of our other comfortable spa facilities such as a heated pool, sauna, cold shower, steam bath and a wonderful relaxation area with daybeds. You also have free access to our ultra-modern fitness room if you like.

The Pool & Spa features attractive, modern styling with a wide range of facilities. You can treat both your body and soul here and recharge your energy during your otherwise busy day. Our Artesia Spa's wellness section has 9 treatment rooms with 11 beds where you can choose from a wide and tempting selection of treatments for skin and body care, medical skin care, and massages, for which a variety of techniques are offered.
Two of our treatment rooms are dedicated to the popular DUO treatments, where 2 people can receive a massage in the same room.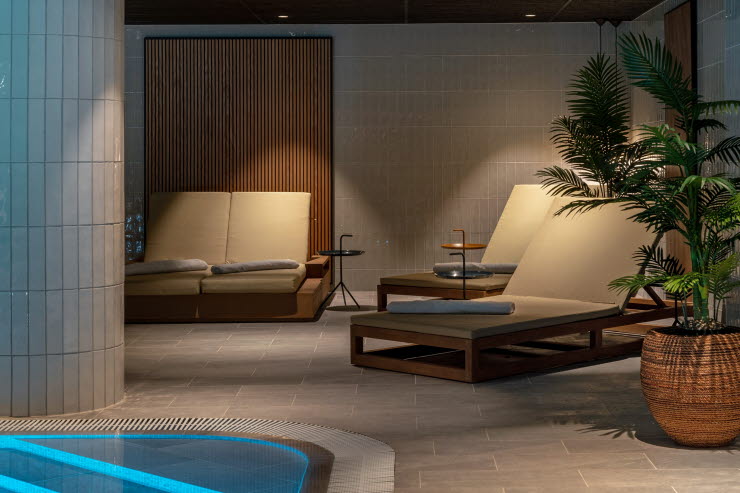 Opening hours
Monday–Friday 07:00–21:00
Saturday–Sunday 08:00–21:00
Entrance to The Pool & Spa should be booked well in advance of your stay due to limited capacity.
Age limit
16 years of age. Lower age limit is 5 years. Children from ages 5 to 15 years can use the pool area only when accompanied by an adult hotel guest, Monday to Friday from 07:00 to 10:00 and Saturday to Sunday from 08:00 to 10:00. Swimming is allowed at your own risk.
Admission fee
For current hotel guests above the age of 16:
Monday–Friday NOK 195
Saturday–Sunday NOK 250
For children under the age of 16 (accompanied by a registered guest), admission is free.
Admission includes
Spa facilities, towel, bathrobe, slippers and water (sparkling or still). Towels are provided at the Artesia reception.
Entrance to The Pool & Spa should be booked here
Exclusive Membership
If you would like unique, personal access to The Pool & Spa, one of our hotel's excellent facilities, we offer an exclusive membership program. Only a limited number of spots are available and there will only be 50 members.
Membership benefits:
Free access to work out at our hotel gym
Free access to our spa facilities at The Pool & Spa, Sunday to Friday
Free access to one of Norway's best breakfasts at Hotel Norge once a week
Free 55-minute classic massage session once a month at our Artesia Spa
10% discount on treatments at our Artesia Spa (does not include medical skin care)
10% discount on all food at Café Norge
The purchase of an annual membership includes a one-night stay in an upgraded hotel room on your birthday
Access to a PT at a rate of NOK 900 per session (must be booked in advance)

Contact us for more information and prices:
Hotel Norge: hotelnorge@scandichotels.com
Artesia Spa: bergen@artesia.no
Spa etiquette
Shower using soap before entering the spa area.
Use a towel to sit in the sauna/steam bath.
Please rinse off the bench after using it.
Pull up long hair.
To keep the atmosphere casual and relaxed, please adjust the volume of your conversations and switch your mobile phone to silent mode.
Be careful when using a camera and do not photograph other guests without their permission.
Food and drink are not permitted to be brought into the area.
Glass and other breakable materials are not permitted.
Stay in The Pool & Spa at your own risk.
Please report to the Artesia reception a minimum of 15 minutes before the start of your treatment.
Personal property is stored at your own risk.
During your spa treatment, use your own underwear or disposable underwear you receive from Artesia.
Cancellation of a treatment appointment must be done no later than 24 hours in advance Monday to Thursday and 48 hours in advance Friday to Sunday. Appointments cancelled after this will be charged at the full amount.
COVID-19 rules
We comply with the Norwegian government's guidelines. We want to ensure a good and safe spa experience with us during your visits.
The number of guests allowed in The Pool & Spa at the same time is limited in order to maintain proper distancing.
Hand disinfection stations are available at the entrance to The Pool & Spa and in the fitness room.
We have intensified efforts and introduced stricter cleaning routines. We clean and disinfect the spa area, fitness room and exercise equipment regularly.
The cleaning staff uses infection control equipment, such as disposable gloves, that are changed frequently.
Exposed surfaces, such as door handles, wash basin taps, light switches etc. that are frequently touched, are washed and disinfected regularly.

Contact:
Artesia Spa Hotel Norge Phone: +47 22 82 50 00, e-mail: bergen@artesia.no
Hotel Norge Phone: +47 55 55 40 00, e-mail: hotelnorge@scandichotels.com