Christmas markets in Oslo
Looking for a bit of Christmas magic in the run-up to Christmas? Stop by the Christmas market Jul i Vinterland located in the Spikersuppa area next to Karl Johans gate. Here both young and old can enjoy Christmassy activities.

A cozy visit for the whole family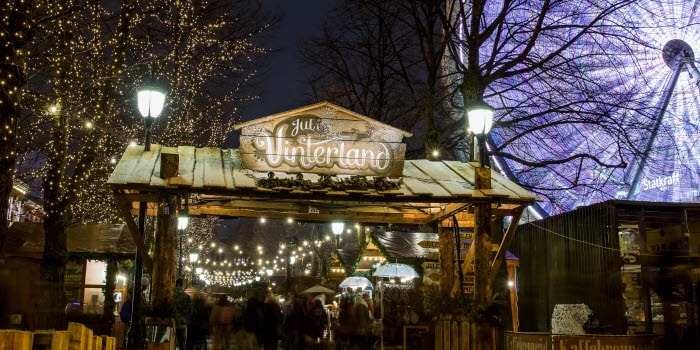 Just in front of Stortinget, the Norwegian Parliament building, you'll find Spikersuppa and the Jul i Vinterland Christmas market. Here you can shop for Christmas presents, ornaments, and taste traditional Norwegian food and drinks from the different stalls in the Christmas market. You'll find roasted almonds, the traditional drink juleglogg, and tasty baked goods. If you're looking for something a little more active, why not take a few laps on the skating rink in the middle of Spikersuppa, or around on the Ferris wheel, where you'll get beautiful views of Oslo city center. If you get cold, warm yourself up in Santa's glogg house, or in front of the bonfire with something warm in your cup. You are guaranteed to find something for every taste.
Open: 13th November – 3rd January 2022.
Christmas market at the Norwegian Folk Museum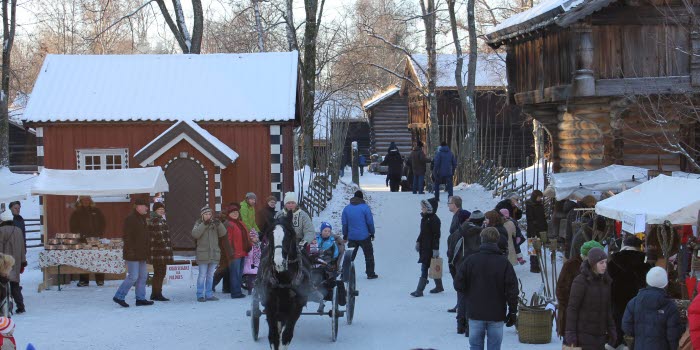 You'll find one of the country's best Christmas markets at Bygdøy. You can easily get here with public transport in just about 15 minutes from Spikersuppa and the National Theatre.
Here you can shop for Christmas gifts from more than one hundred stalls, and at the same time experience a historical stroll through Christmas celebrations from decades and centuries ago. The whole museum is decorated in line with different customs and eras so that you can experience everything from Christmas Eve in a rich merchant's home from 1769, to Christmas celebrations in a family home from the countryside in 1959.
The market stalls are brimming with exciting items and traditional food. Santa opens the doors to his workshop and dances the "Santa dance" with his children. The beautiful sounds, wonderful smells and delicious tastes of Christmas fill the museum. Experience the twilight hour with a dance around the Christmas tree. You are guaranteed an atmospheric Christmassy day!
Open 4.-5. and 11.-12. December at 11.00 -16.00