10 insider tips for Stavanger
The Stavanger region offers a rich selection of activities and experiences. It can be difficult to prioritise what to do when time is limited. Our local experts and our employees have therefore compiled a list of the top 10 things to do in Stavanger to make it easier to choose and guarantee that you won't miss anything when visiting the city. We have 5 hotels in Stavanger, and with comfortable rooms and an award-winning breakfast service, our hotels are the perfect starting point for exploring this region of Norway.

1. Preikestolen (Pulpit Rock)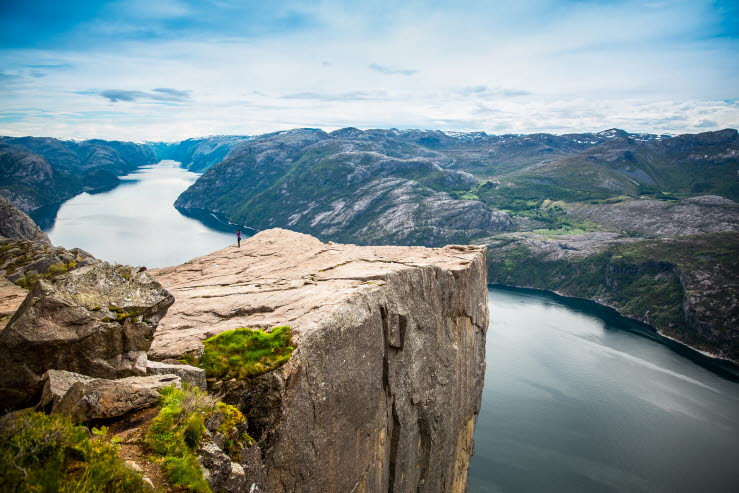 If you haven't been to Preikestolen yet, here's your chance! This spectacular viewing point offers an amazing scenic experience, with stunning views of Lysefjorden and the surrounding areas. Preikestolen is one of Rogaland county's most visited attractions and also one of the most photographed natural wonders in the country. Preikestolen has been named one of the world's most spectacular viewing points by both CNN Go and Lonely Planet. It rises 604 metres above Lysefjorden.
2. Kjerag
At 1,084 metres above Lysefjorden, Kjerag is the tallest peak of them all. In recent years, it has become increasingly popular to hike up to the actual mountain plateau. Most people are satisfied to take in the mesmerising views from the top of the mountain. However, for some hikers, the highlight seems to be taking their photo on the Kjerag boulder, a round chunk of rock wedged into the crack of the mountain.
3. Old Stavanger
A walking trip to Stavanger's old town is a must. The area called Old Stavanger is quite small, but is made up of many tiny, charming houses with a rich history. Stavanger actually boasts the largest collection of preserved wooden houses in Europe.
4. Fargegaten (Colourful Street) in Stavanger
Some say this is the most colourful street in the world, where all the buildings have been painted in fresh and vibrant colours. The street offers unique concept stores, cafés, art stores and photographic scenery. Sit, enjoy and observe for hours on end. The street's real name is Ovre Holmegate, but everyone knows it as 'Fargegaten'.
5. Surf or kitesurf the beaches of Jaeren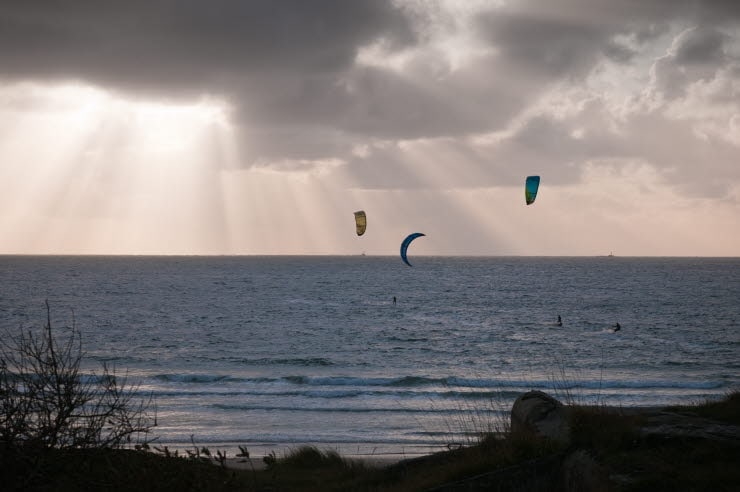 Some of the best surfing or kitesurfing conditions are found by the beaches of Jaeren. One of our guests from Australia said he had never seen anything like it... That says it all.
6. Flo & Fjære
Flo & Fjære is a unique 'tropical' island with an abundance of flowers and palm trees. A visit to Flo & Fjære starts with a comfortable boat ride, followed by a sightseeing tour in the lush park.
7. Gamlingen
Gamlingen is one of Stavanger's key landmarks, and has an outdoor pool and a long-standing history of great importance to the city's identity. Gamlingen is not just an outdoor pool, but also Stavanger's wettest social meeting place. The outdoor pool is next to Scandic Forum Hotel.
8. Norwegian Petroleum Museum
The idea of creating a dedicated oil industry museum in Stavanger emerged as early as the 1970s. However, the official opening by HM King Harald did not take place until 20 May 1999. Covering 5,000 sqm, the museum is located in the very heart of Stavanger and incorporates exhibition space, a cinema, restaurant, library, meeting rooms, workshops and offices.
9. Sverd i fjell (Swords in Rock)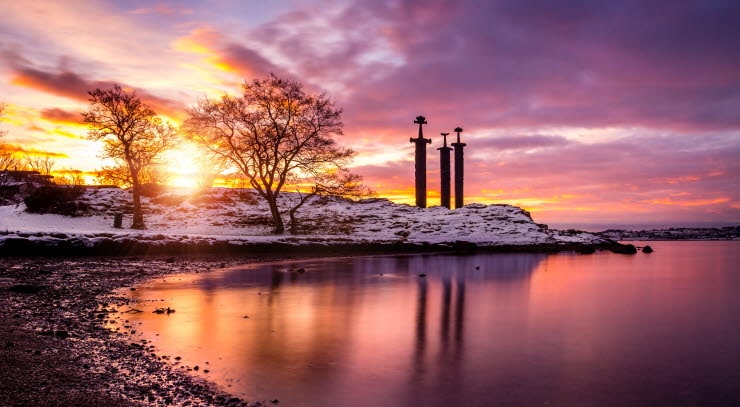 Sverd i fjell (Swords in Rock) monument is located right next to Hafrsfjorden. The monument represents three 9.2-metre tall swords forged into the rock, in memory of the Battle of Hafrsfjord in 872, where Harald Fairhair united Norway as one kingdom.
10. Renaa restaurant
This intimate venue is a chef's playground, where chefs serve and present their culinary artwork themselves. Meals come from and are mostly inspired by Rogaland, with locally sourced ingredients from the region. The art is to create innovative dishes with great flavours. In 2016, the restaurant was awarded a Michelin star in the Scandinavian Michelin Guide. Book early if you can - this is a popular place!