Christmas market in Wroclaw
Many people are unfamiliar with Wroclaw's Christmas market. What they don't realize is that according to the American online newspaper The Huffington Post, it's one of the 12 most beautiful Christmas markets in Europe! Find out why that is and why you should definitely include it in your itinerary here.

One of the most Beautiful Christmas Markets
Every year, thousands of visitors are enchanted by the magic of Wroclaw's Christmas market. There are some fabulous gifts to be found for your loved ones:
When? End of November, open every day from 10:00 to 21:00
Where? In the old town between Swidnicka Street to the Rynek marketplace
What? Handicrafts, cosmetics, artworks and regional Polish products

Culinary Specialities
The Christmas market in Wroclaw is also a great opportunity to feast on local delicacies. The selection ranges from Hungarian Langos and Turkish baklava to French crepes. Traditional Polish cuisine is of course also well represented. Classic dishes such as 'Schaschlik', mountain cheese with cranberries, sweet chestnuts, pickled pork knuckle or 'Bigos', a cabbage stew made of sauteed sauerkraut with various meats and sausages, all combine to produce a taste explosion for the palate. And let's not forget the home-made mulled wine.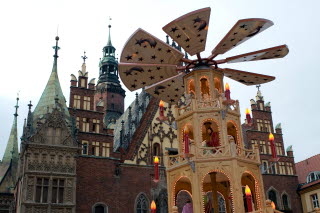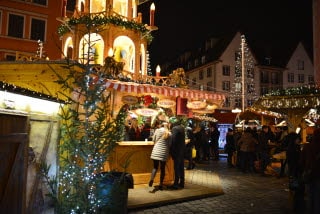 family activities
The Wroclaw Christmas market offers far more than just good food and Christmas decorations. The 'Jarmark Bożonarodzeniowy', which is Polish for Christmas market, is a special treat for families with kids. On 6 December, the St. Nicholas Parade takes place on the marketplace. Artists on stilts dressed in amazing costumes entertain young and old with their dance performances, percussion and fire shows. The actors dressed as dwarfs are a very special sight. When the kids stroke them three times on the hat, they are given a small gift in reward. The little ones can also explore fairy-tale woods, which use music and visuals to bring Snow White, Pinocchio and Little Red Riding Hood to life.
The perfect hotel for your stay in Wroclaw
Enjoy a comfortable stay at Scandic Wroclaw. Our hotel is only 8 minutes' walk from the Christmas market and numerous other local sights and offers families, friends and couples the perfect place to stay.