ROOTS - Stockholm's newest meeting place
Discover Roots, Downtown Camper's new meeting and events space on Drottninggatan, right in the heart of Stockholm.

Stockholm's newest meeting place
'Business unusual' is our name for it and this is where you'll find the same charm and light-hearted feel as in our hotel's other creative spaces. There are 13 meeting rooms of various sizes, 9 of which are multi-flexible with operable walls. 900 sqm out of 1,300 sqm can become an open events space.

Flexible solutions
No matter whether there are 20, 60 or 650 participants, we'll fully adapt to your requirements. In addition to receiving our world-class service, you can also book everything that Downtown Camper has to offer including activities, wellness, a great night's sleep, delicious food and beverages.
Our events space offers full technical equipment and lounge areas with a little more privacy for phone calls, for example. Furnishings can be adapted for meetings, networking events and dinners.
This facility has an entrance on Drottninggatan and also offers indoor access from our hotel. Food and beverage is available from our Campfire restaurant.

Café next door
Our new café right next door to our new events area, is called Downtown Camper Café. In true Downtown Camper style, the focus is always on sustainability, well-being and community.
Sketch of ROOTS - rooms and room numbers
Drawing of the space with all meeting rooms included. 9 of 13 rooms are multi-flexible with operable walls. Theatre seating is, of course, also available.
Take a virtual tour around the meeting and events area.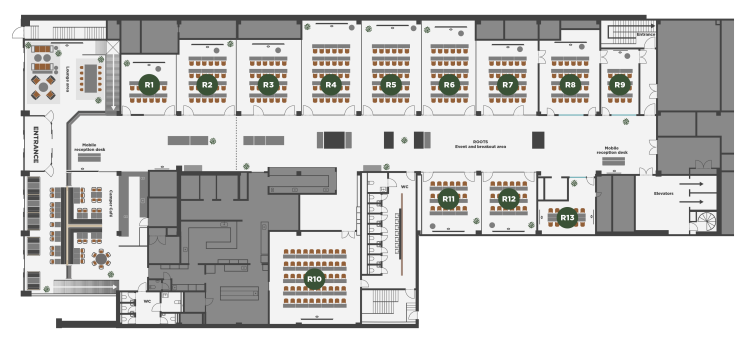 Sketch of ROOTS - larger dinner
This is how the space could look for a larger dinner or banquet. You can see a stage and round tables on the sketch.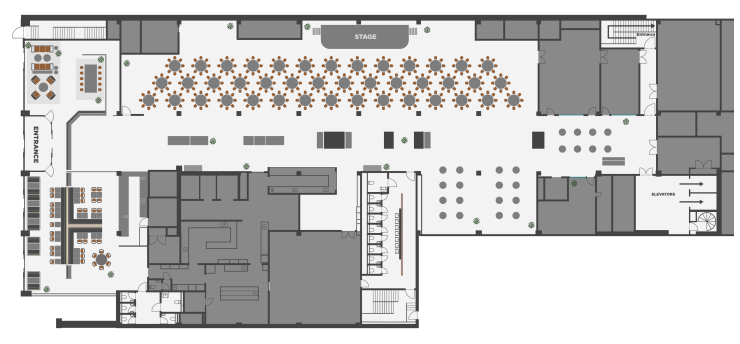 Sketch of ROOTS - networking event
This is how we can open up the space for a larger networking event.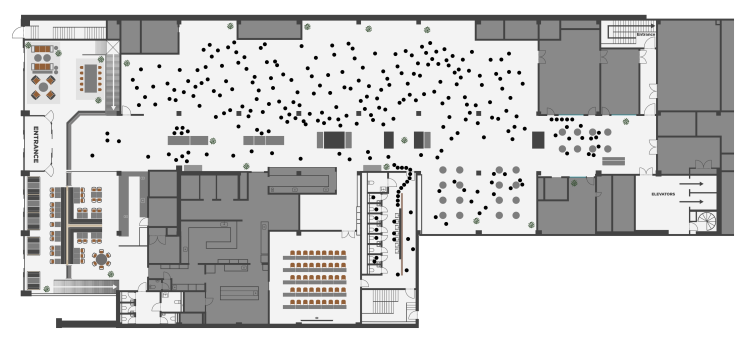 Fast facts about ROOTS
1,300 sqm total public area
900 sqm can become an 'open events area'
13 meeting rooms of various sizes
9 of these are multi-flexible with operable walls
Full technical equipment
Furnishings for meeting, networking events and dinners
Sustainable café next door
Lounge area for privacy/phone calls
Food and beverage from Campfire
Downtown Camper's full offer
Indoor access to our hotel