Breakfast for a better start
Whether you're relaxing by yourself, hanging out with friends, discovering a new destination, preparing for a marathon or heading to the most important meeting of your career – you'll enjoy a better start to the day with us. A feeling that stays with you when leaving.

#StaySafe: Breakfast information
Find out what temporarily adjustments we made to our breakfast:

Sweden: Many of our hotels now serve a breakfast buffet, with the option to choose a breakfast box. But some hotels only serve the box. For detailed information about your hotel, please visit there hotel page.
Norway: Our award-winning breakfast has been temporarily replaced by our corona-adapted breakfast buffet.
Denmark: The breakfast is served in small single servings, easy and safe to grab.
Finland: Serves breakfast buffet, but you can also enjoy a breakfast in the room by ordering it as take-away.
Germany: The breakfast buffet offering might be adapted due to safety measures and local restrictions. The percentage of organic products on the buffet is increased to at least 40%.
Poland: The breakfast buffet offer might be adapted due to safety measures and local restrictions.
a better start to the day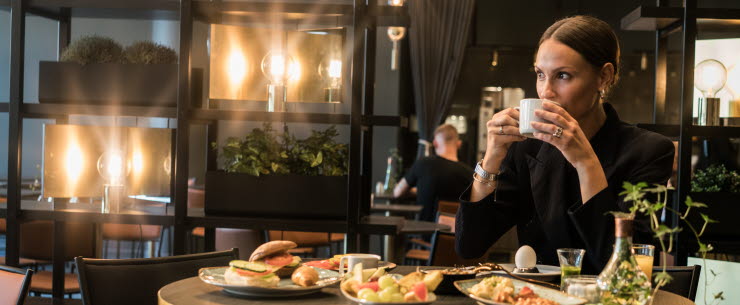 As soon as you approach the breakfast, you know this is a place where big things happen. People are making new friends, families gather around a mountain of pancakes, couples steal glances at each other and friends who haven't seen each other for years reunite. Some people seal a lifelong business relationship over a cup of coffee, while others discover their true love amid the aroma of freshly baked bread.
Your well being is dependent on great food
To get a good start to the day, Scandic revolves around great food and atmosphere. To be the best version of you we serve a healthy mix of energising breakfast items and tasty food. Great food will impact your next beginning.
Care for a small bite to eat during the afternoon or evenings? Visit our shop where you'll find sandwiches, coffee and snacks 24 hours a day.
Reasons for a better start with us
*A few of our signature hotels in Sweden and Norway has not breakfast included in the rate. Our hotels in Germany and Poland has not breakfast included in the rate but is available to add as an optional extra.