Breakfast for a better start
Whether you're relaxing by yourself, hanging out with friends, discovering a new destination, preparing for a marathon or heading to the most important meeting of your career – you'll enjoy a better start to the day with us. A feeling that stays with you when leaving.

a better start to the day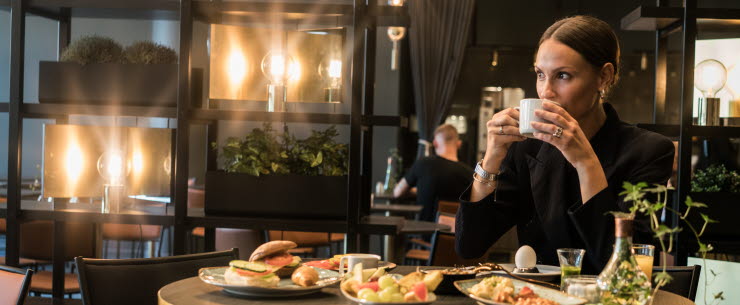 As soon as you approach the breakfast, you know this is a place where big things happen. People are making new friends, families gather around a mountain of pancakes, couples steal glances at each other and friends who haven't seen each other for years reunite. Some people seal a lifelong business relationship over a cup of coffee, while others discover their true love amid the aroma of freshly baked bread.
Your well being is dependent on great food
To get a good start to the day, Scandic revolves around great food and atmosphere. To be the best version of you we serve a healthy mix of energising breakfast items and tasty food. Great food will impact your next beginning.
Care for a small bite to eat during the afternoon or evenings? Visit our shop where you'll find sandwiches, coffee and snacks 24 hours a day.
Reasons for a better start with us
A breakfast buffet* is always available for you including healthy alternatives
Allergy friendly breakfast with gluten- and lactose-free products, as well as vegan and vegetarian options available
Certified Debio in Norway
The coffee is Fairtrade™ or UTZ Good Origin certified
We work to reduce food waste in a collaboration with Karma and Too Good To Go - apps visualizing food to be saved nearby
Breakfast is included* at most of our hotels in the Nordics, or available to add as an optional extra.
All eggs served at our hotels are from free-range hens, this also applies when we use it as an ingredient
*A few of our signature hotels in Sweden and Norway has not breakfast included in the rate. Our hotels in Germany and Poland has not breakfast included in the rate but is available to add as an optional extra.