The secret life of city bees
Norway's most urban bees can be found here, on the roof of Scandic Vulkan in Oslo. And the honey? It's not exactly like 'normal' honey.

" For me, honey was always a positive experience. It was luxurious, and I could only have it on Saturdays. So I wanted to know where it came from. Also, I've always been fascinated by insects of all kinds," says Alexander Du Rietz, and smiles in such a way that is even visible through the astronaut-like beekeeper suit.
This fascination is hardly unique for a beekeeper. But the apiary where Alexander walks round with a bee smoker and white gloves, is pretty unique.
Right in the tourist centre of Oslo
It's just in front of Mathallen at Scandic Vulkan, the very heart of Oslo for urbanites, and also one of the most interesting locations for tourists on a city break.
Right above, Telthusbakken and Fredensborgveien rise up with their 19th century pockets of painted wooden gingerbread houses. And on the opposite side of Akerselva, Grunerlokka beckons with all its cafés, bars and independent shops.
And yet: Here on our roof, Alexander has a real apiary with seven beehives. Each of them is home to 50–80,000 bees. Hundreds of thousands of buzzing honey producers live at the Vulkan apiary in central Oslo.
This means Scandic Vulkan can serve honey from its own bees to its guests.
Honey is a purely natural product
Honey is a purely natural product that contains five different sugars. It is also sweeter than ordinary sugar. This means that you need less honey to get the same sweet flavour.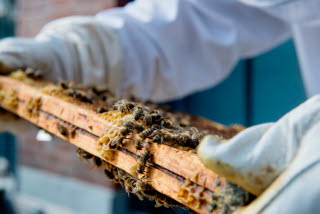 A healthy beehive has 50,000–80,000 bees. Fortunately bees are not aggressive. Photo: Gjermund Glesnes
As most parents of young children know, children under 12 months must not eat honey.
However, for adults, the bees' amber nectar has several nutritious properties: It aids digestion, and contains several trace substances and minerals that the body needs, including iron, phosphorus, calcium, potassium and magnesium.
Whether honey is healthy or not is still open to debate. Scandic Vulkan's general manager, Monica Egeberg, was brought up to believe the former.
"My grandfather had three beehives, and was probably more concerned about his bees than us grandchildren. But we were given clear instructions. We had to eat a teaspoon of honey every day. And I've continued doing that. I always have a cup of tea with honey for breakfast at the hotel," she smiles.
More nutrition for the city
Good memories or not. An apiary 100 metres from the general manager's reception, right in the centre of Norway's capital city, does however sound like a rather hopeless experiment.
The truth is the complete opposite.
Bees lose their sting and die if they sting someone, and are therefore not aggressive. As far as Alexander knows, no Mathallen guests have been stung in the three years since the beehives were installed.
Last year, he was also able to test the honey from Vulkan at the Bioforsk laboratory. The result was almost better than he'd hoped:
The honey from the Oslo bees actually had more healthy minerals than country honey from the Oppland region. And it did not contain more harmful substances.
"There is greater biodiversity here in the city than in many places in the countryside, where there'll often be kilometre after kilometre of arable land where for example only wheat is grown, instead of flowers," explains the Swede, and adds:
"It actually speaks for itself. If I only eat spaghetti bolognese all my life, it won't do me any good. Bees also need a varied diet.
Thanks to the bees' buzzing efforts, the guests at Scandic Vulkan can also get the day off to a nutritiously sweet start – genuinely local and very tasty