How to bake sourdough bread – with recipe
Sourdough bread tastes better, keeps you full for longer and contains less gluten than ordinary bread. Join us at Oslo's best sourdough bakery to learn the secret.

How to bake authentic sourdough bread
"Sourdough is how bread was baked in the olden days. Baking yeast did not appear until the 19th century," says Nikolaj Ernest Padevski, the 26-year-old managing today's bread batch at Handwerk.
The little bakery at Vulkan Oslo – located at the top of the stairs above Mathallen – is no ordinary bakery: Not only is the bread shaped in front of the large windows facing the square. The owners include award-winning Norwegian chef Tom Victor Gausdal and Even Ramsvik who ran the Michelin-starred restaurant Ylajali. And in spring, Aftenposten newspaper voted theirs the best sourdough bread in Oslo.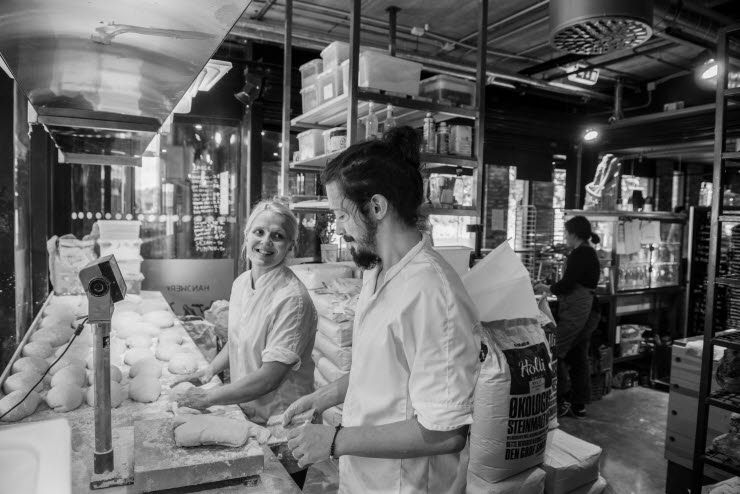 At Handwerk, they try to do things a little differently. That's why Nikolaj Ernest Padevski and Ine Meling bake their sourdough bread in front of open windows. Photo Gjermund Glesnes

Scandic Vulkan​is situated right opposite Handwerk bakery and serves their bread for breakfast, proven to be the guests' favourite.
"It's more expensive than normal bread. But it's worth it. The bread from Handwerk provides our guests with a better experience. And when Oslo's best bakery is located just 10 metres away from our reception, it would be a bit stupid not to use it," says general manager Monica Egeberg.
Healthier and better

Ernie, as his colleagues call him, started baking for fun aged just 14, and discovered sourdough around three years ago. Now sourdough is the only kind that counts for the Slovenian-born baker.
"Sourdough gives a deeper flavour and better crust with slightly caramelised taste. Once you get a taste for sourdough, it's difficult to go back to 'normal' bread. Compared to bread made from sourdough, they don't have much flavour," he emphasises.
Additionally, the long resting period – the bread at Handwerk are all left to rise for at least one night before they're baked – makes the bread healthier. Grains actually need 10–15 hours to release all the nutrients, vitamins and minerals they contain.
"Since much of the gluten in the grain is broken down, sourdough bread contains less gluten. Coeliac disease sufferers will still be affected. But if people only have a gluten intolerance, they can by and large eat it," says Ernie, who presents yet another argument for the old-fashioned baking technique:
"The bacteria and yeast in sourdough help the body extract more nutrition from the bread. This helps you feel full for longer. Even white sourdough bread fills you up properly," he says.
How to make sourdough
Making sourdough is not difficult, claims Nikolaj Ernest Padevski, who believes that it's perfectly suited to home baking. However, you do need patience, love and time. Sourdough bread is not something you mix together and throw into the bread maker.
Here's his recipe for sourdough:
Mix 50 g organic flour with 50 ml room temperature water in a bowl or Kilner jar.
Leave it to rest on the kitchen counter.
Once a day you'll need to feed the sourdough starter. You do this by adding another 50 g of organic flour and 50 ml of water every time, at the same time of day each time.
To avoid the mixture getting too big, you can remove half of it before you feed it. Instead of throwing it away, you can use it for e.g. pancakes or a normal baking recipe.
After 3–5 days of regular feeding, the mixtures should start bubbling almost like champagne. Now you have a ready sourdough starter, and you can start baking.
How to bake sourdough bread
Every time you bake sourdough bread, take a tablespoon or two of sourdough starter, mix it with more flour and room temperature water, and leave it to rest overnight.
Nikolaj suggests this recipe:
1 tablespoon sourdough starter
40 grams wheat flour
10 grams coarse wheat flour
50 ml room temperature water
If you wish to avoid waiting 10-12 hours before you start baking, you can speed up the process by using warmer water. But the water must not exceed 37°C as this will kill the yeast bacteria!
The following day, mix in the rest of the flour and water as described in the bread recipe. If the bread recipe is written for normal yeast, remember that the sourdough starter consists of 50 per cent water, so you may have to reduce the water quantity.
Also remember that the new dough must rise before you shape and bake the bread.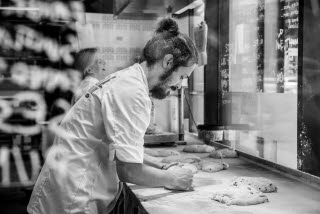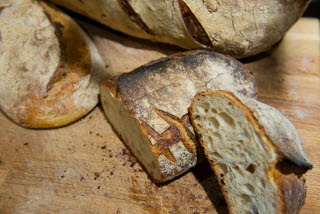 Taking care of your sourdough starter
It's no accident that many people compare their sourdough to having a pet. The sourdough also requires regular care.
Once it's got started, it should be kept in the fridge.
Ideally every day, but at least every other day, it must be fed. Follow the instructions above, with 50 g flour and 50 ml water.
If you bake as often as you feed it, you can keep one large sourdough. Otherwise, you'll have to do as described above for baking with sourdough. Remember to also feed the sourdough.
If you're going away, you can place the sourdough in the freezer, or roll it out on the kitchen counter and dry it out. In either case, it will need 2–3 days to come back to life again afterwards.
The sourdough improves with age. It's actually possible to buy old sourdough starters online.
Good luck!
Recipe
Light sourdough bread
| | |
| --- | --- |
| Ingredients | Here's how to make it |
| 970 g organic wheat flour | 1. Mix all the ingredients together until the dough is more or less free of lumps |
| 50 g organic fine wholemeal flour | 2. Cover and leave to rise for 1 hour |
| 20 g salt (without iodine) | 3. Wet your hands with lukewarm water, take the dough out of the bowl, stretch it out a little and fold it once. Put the dough back into the bowl and cover. Leave the dough to rise for another 1/2 hour |
| 650–670 g water (around 20°C) | 4. Repeat the folding for a 2nd time as described above. When you've done this, cover the dough and leave it to rise again for another 1/2 hour |
| 100 g sourdough (prepared at least 4 hours before it is used. Tip – make the day before so it can rest overnight) | 5. Repeat the folding for the 3rd time. Then place the dough in an airtight container and place it in the fridge for 24 hours. |
| | 6. Remove the dough from the fridge, divide it in half and shape each part into oblong loaf shapes. Place them in your chosen tins and cover well. Place in the fridge for another 16-24 hours. Check the dough often. If the sourdough is strong, the fermentation and rising process may be quicker, and you don't want them to rise over the edge of the tins |
| | 7. Remove the breads and bake them at 250°C for approximately 40–45 minutes. You can lower the temperature 10–30 degrees in the last 15 minutes if you prefer a thinner and lighter crust. |
| | 8. Take the loaves out and leave to cool for about 1 hour. |
| | 9. Enjoy your freshly-baked sourdough bread with your chosen topping. Bon appetit! |