How to eat a Swedish christmas buffet
Did you know that a traditional Swedish Christmas buffet should be eaten in a certain order? Here's all you need to know about how and what to eat.
Enjoying the whole Christmas buffet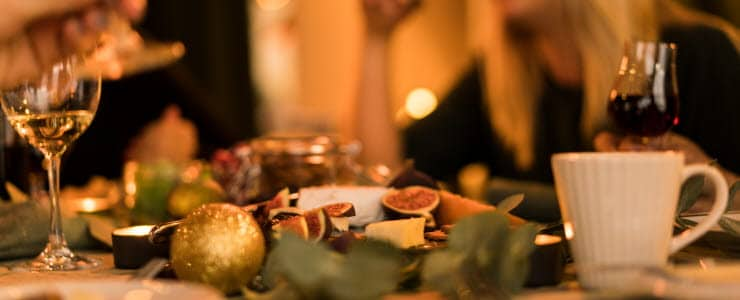 Many Swedes follow the classic way of eating a traditional christmas buffet, others just make a "best off". Following the classic order maybe isn't such a bad idea. Sure, there are many (seven!) and how do you make room for it all? The trick is not to take too much - quite a small amount really - on each visit, to make sure you aren't full-to-bursting halfway through the evening.
Visits to a classic Christmas buffet:
Visit 1: Herring with extras.
Visit 2: Salmon, fish pâté, seafood and eggs.
Visit 3: Cold cuts, meaning any meat that isn't hot. This may be ham, sausages and pâtés.
Visit 4: Small hot dishes. Yes, they get a visit of their own. Here we mean meatballs, Janssons frestelse (Jansson's temptation), Lutefisk, spare ribs and Dopp i Grytan (Dip in the Pot).
Visit 5: Cheeses
Visit 6: Dessert: Ris á la Malta (creamed rice pudding), fruit salad and crullers, to name but a few.
Visit 7: Christmas sweets. Time to indulge in goodies such as toffee, roasted almonds, sticks of rock and marmalade.
That's the classic order of visits, but of course nothing is set in stone. Christmas buffet content does vary. Many Scandic hotels serve a traditional Christmas buffet, others offer a vegetarian Christmas buffet or have chosen to focus on seafood.
Book - best price guaranteed