The Reef pools
In our 1,500 sqm aquapark, there's plenty of activities and fun for the whole family. Filled with palm trees, cliffs and ocean waves, our aquapark is a true Caribbean paradise where you can seek adventure along the clifftops or shelter in the caves during a tropical rainstorm.

Wave pool
The huge wave pool, aptly named Thunder Bay, is heated to 30°C and stretches all the way from the water's edge down to the waterfall. The waves roll during tropical storms, and monsoon rains pour down on any guest who dares to defy the thunderstorms to splash around in the waves.
Kid's pool
The sparkling cave is where you'll find The Reef's kid's pool – beautifully framed by lush jungle foliage. Kids can play in the shallow water as they gaze in fascination at the cave's sparkling ceiling. The water is heated to 32°C, and there are also toys and other fun activities to entertain the kids, while parents can relax in our wonderful whirlpool and keep a watchful eye on their kids, taking advantage of its excellent view over the entire kid's area.
Dive tank
Head out on an exploration and discover the diving tank hidden up on the mountain in the middle of the aquapark. From the depths of the tank, you can gaze out over Thunder Bay and the other guests can keep an eye on the underwater treasure hunters.
Whirlpools and steam baths
You'll find no fewer than 5 whirlpools at The Reef where you can relax and enjoy the wonderfully festive Caribbean atmosphere. Whether you want to enjoy your partner's company amongst the palm trees or hang out with friends in a bubbly setting, we have a whirlpool that meets your needs. You can also try a steam bath and feel the real tropical heat spread through your body.
Waterfall
Experience a monsoon rainfall as soon as the aquapark's tropical waterfall opens its gates. Find shelter in the pool above the waterfall where you can enjoy a view of the entire lagoon. Enjoy the tropical surroundings, the easy calypso rhythms, and cool down with a cold drink from our aquapark bar.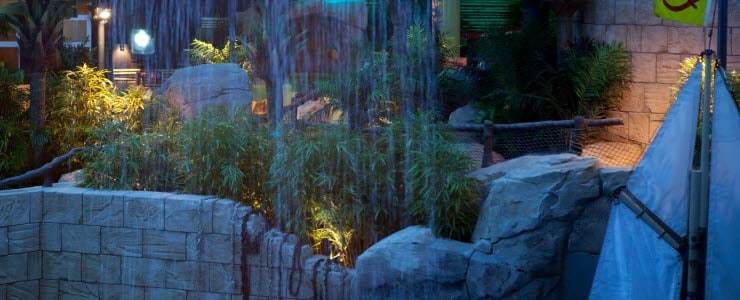 Climbing wall
On the outskirts of the lagoon, there's a smaller pool where you can unleash your inner adventurer on the climbing wall. Climb up the side of the mountain through the exotic jungle foliage – and fall straight down into the 32°C pool if you lose your grip.
Outdoor swimming pool
Swim through the underground channel and discover the outdoor pool at Sundeck, which is heated to 27°C all year round. You can swim a lap around the pool in beautiful surroundings or sip on a wonderfully chilled drink, with or without alcohol. The pool has a bench with integrated nozzles from where you can enjoy watching the water fountain. From the Sundeck, you also have access to our amazing saunas.