What to do in Berlin
When you think of Berlin, the first things that often come to mind are the Brandenburg Gate, the Television Tower and the Reichstag. Yet this city has many more exciting places to offer than just these classic sights. We have 5 Berlin top tips ready to show you what you can experience in the German capital.
Mauerpark Flea Market
A colourful flea market is held in the Mauerpark every Sunday between the districts of Wedding and Prenzlauer Berg. It acts as a meeting place for tourists, locals, designers and students. As well as all manner of bric-a-brac, clothing and handicrafts, the flea market attracts musicians and a wide range of international street food. One of its main highlights is what could be Germany's best karaoke party. In good weather, organiser Joe Hatchiban uses his speakers, mixer desk and laptop to turn the semi-circular amphitheatre in the park into a full-blown karaoke stage. Anyone with enough courage can show off their singing talents here – even if the focus is more on entertainment than actual musical ability. From the Bernauer Straße metro station on Line U8 it's just a few minutes' walk to Mauerpark.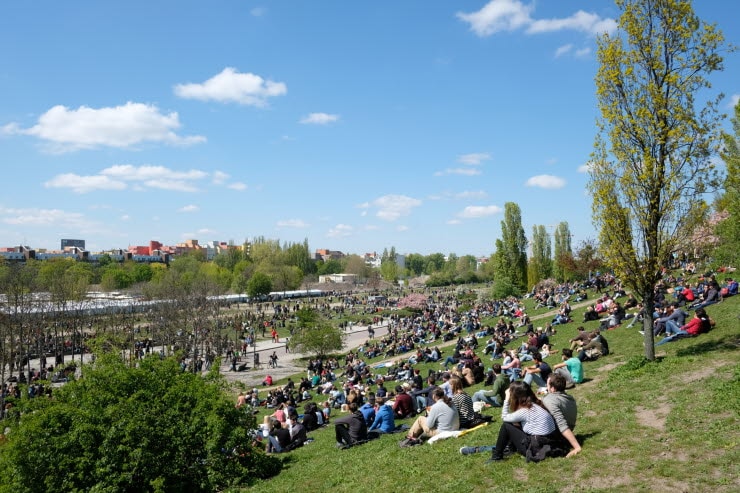 Panoramapunkt Berlin
Located right on Potsdamer Platz itself is a cheaper alternative to the Television Tower. Here you can enjoy almost as good a view over Berlin for around half the price. The fastest lift in Europe whisks you to the 24th floor of the Kollhoff Tower in just 20 seconds. Here you'll find a café, an exhibition on the history of Potsdamer Platz, and a viewing platform with a breathtaking view over Berlin. The tower can be reached via various metro and S-Bahn lines and buses. Moreover: The Panoramapunkt is just a few minutes' walk from Scandic Berlin Potsdamer Platz.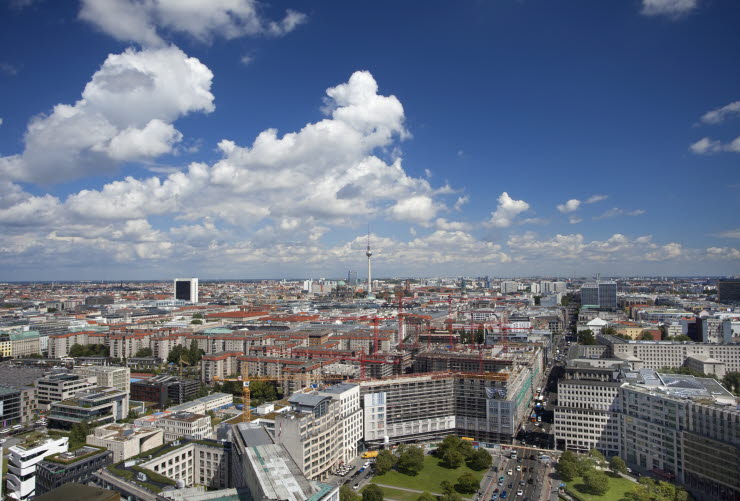 Markthalle Neun or Kulturbrauerei?
If you want to indulge in a cult market experience, you can either visit Markthalle Neun in Kreuzberg or Kulturbrauerei in Prenzlauer Berg – or both.
Markthalle Neun in Kreuzberg is located near Gorlitzer Park metro station and attracts numerous curious visitors each day. They are always delighted to find regional, seasonal products and authentic foods from all over the world. The iron and glass structure with its airy atrium gives the hall a rustic charm. Every Thursday from 17:00 to 22:00 is "Streetfood Thursday". This is the day the stands demonstrate their culinary variety and spoil visitors with tasty delicacies. Kids and youngsters can also take part in cookery classes and learn valuable skills in food preparation. Markthalle Neun is easy to reach, either on the U1 motorway from Gorlitzer Park metro station or on Bus 140 from Wrangelstraße bus stop.
The "Street Food auf Achse" market is held in Prenzlauer Berg on the premises of Kulturbrauerei. Most of the stands are run by local Berlin residents from the surrounding area. This makes the market very authentic and regional. The nearby courtyards offer comfortable places to sit, or you can relax in the "Frannz Club" beer garden. On cold days, warm up around the fire baskets and tuck into some good, hearty food. Kulturbrauerei is within easy reach of Eberswalder Straße metro and tram stations.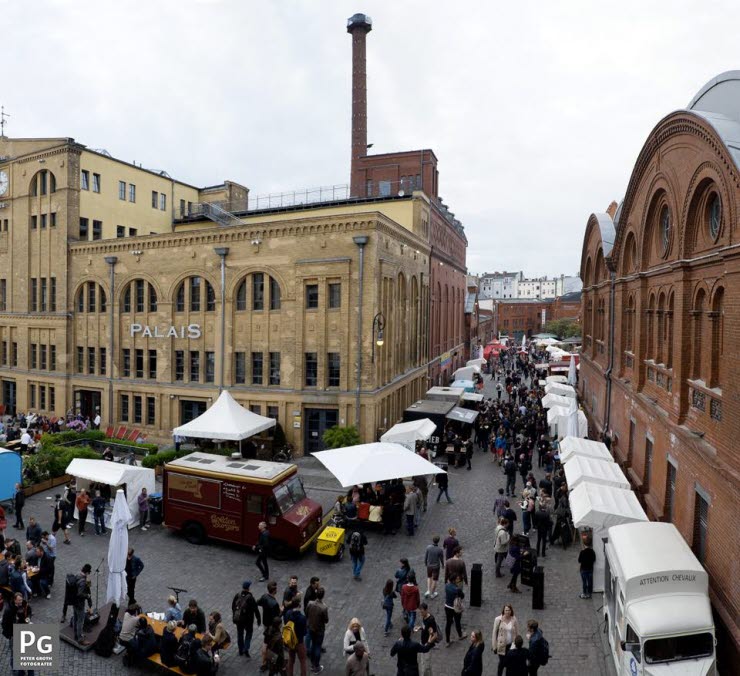 Photo credit: KETERING GmbH
East Side Gallery
Anyone who gets excited about Street Art whilst also having an interest in the history of Berlin shouldn't miss a walk along the East Side Gallery. This part of the Berlin Wall lies in the district of Friedrichshain and runs along the Spree river. At 1,316 metres in length and with 101 large-scale works of art, it's the longest open-air gallery in the world. The pictures on the former east side reflect the political changes and the joy at the fall of the wall. Some works, such as the Bruderkiss (Brother Kiss) by the Russian painter Dimitri Wladimirowitsch, have already attracted global attention. The best way to get to the East Side Gallery is from Schlesisches Tor metro station or from Warschauer Straße metro and S-Bahn station.
Teufelsberg
Teufelsberg is a 120-metre high mound made up of rubble from the Second World War. It offers spectacular views over Berlin. On the hill there's a rather mysterious and secretive building that was a former NSA flight monitoring and listening station. It's situated in the neighbourhood of Charlottenburg-Wilmersdorf in the city's Grunewald district. Here, locals particularly enjoy indulging in sporting activities and like to relax by mountain biking, hiking or paragliding, or by simply flying kites. In summer, the nearby Teufelssee lake, which gets its name from Teufelsberg, is the perfect place to cool off. In winter, by contrast, Teufelsberg makes a great tobogganing hill. To get to Teufelsberg, simply take S-Bahn lines S3, S5, S7 or S75, or bus numbers 186, 349 or M19 from Grunewald S-Bahn station. Scandic Berlin Kurfürstendamm is ideally situated in the city centre, from where you can quickly reach Teufelsberg via the S-Bahn.
Accommodation in the heart of Berlin
Our 2 hotels represent the perfect starting points for exploring the best activities and sights that Berlin has to offer. Located right in the centre on Potsdamer Platz near the Kreuzberg, or to the west on the famous Ku'damm right by KaDeWe – our hotels are always right in the heart of all the action, yet it's still quiet and peaceful enough for you to relax after a strenuous day of sightseeing.
Book - best price guaranteed