To Stockholm by ferry
Any fans of maritime adventures and the Baltic Sea should definitely sign up for a boat trip from Gdansk to Stockholm. The route goes via Nynashamn, which lies about 50 kilometres southwest of the Swedish capital. Here you can find everything you need to know for an exciting trip from Gdansk to Stockholm.

Gdansk: Depart from a romantic sea port
The Polish port of "Gdansk" is the capital city of the Pomeranian Voivodship and is situated on the Baltic Sea coast. It's known for being one of the liveliest cities in Poland. The most important sea port in the country, it boasts various shipyards. Its long, exceptionally wide beaches make it an excellent holiday destination. If you enjoy a gentle stroll you'll be delighted to explore the many cosy bars, cafés and boutiques on Frauengasse street. Scandic Gdansk offers the perfect opportunity to stay just 10 minutes' walk from the old town district. The ship leaves from the "Polferries" terminal in the port of Gdansk.
FERRY to Stockholm
Whether you're travelling alone or with family and friends: A breathtaking adventure is guaranteed when you embark on a ferry to Stockholm with the Polish Polferries shipping line. The "M/F Wawel" sets off at 18:00 every Tuesday, Thursday and Saturday on her voyage to Sweden. There are sleeping cabins, shops, bars, a restaurant and even a ship's disco on board. The journey from the port of Gdansk to Sweden takes about 19 hours. The route takes passengers across the Baltic Sea past the Swedish island of Gotland and onto Nynashamn. From there, it's just 45 minutes by bus or car or one hour by train to Stockholm.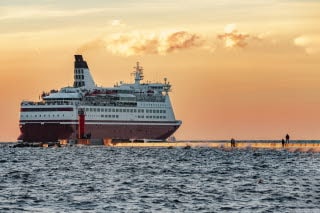 Stockholm - The Venice of the North
With its 14 islands and 53 bridges, Stockholm is often referred to as the Venice of the North. It's considered one of the most beautiful cities in the world. Its manageable size makes it easy to get from one tourist attraction to the next. The well maintained houses of the old town and its many parks and cafés give the city its distinctive charm. In contrast, the trendy neighbourhood of Sodermalm attracts a great many artists and students. There are numerous tourist attractions in Stockholm. Our maritime tip: At the Vasa Museum, you can marvel at the world's only ship from the 17th century ever to be salvaged almost completely intact. Almost 95% of its original parts remain and it's adorned with hundreds of wooden carvings.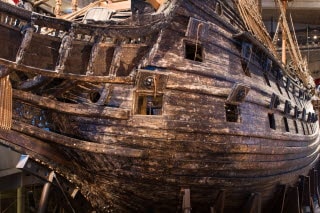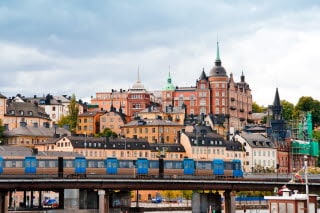 Our hotels in Gdansk and Stockholm
Enjoy a fantastic stay in the sustainable, modern design of our Scandic Hotels and be inspired by the Scandinavian flair. Our hotels in Gdansk and Stockholm are perfectly equipped for your trip.