IRONMAN Hamburg 2018
On Sunday 29 July 2018, Hamburg will once again be host to one of the world's largest sporting events: IRONMAN 2018 is coming to the Hanseatic city and with it 2,500 top athletes!
IRONMAN Hamburg 2018
One of the toughest sports competitions returns to Hamburg on 29 July 2018. At IRONMAN 2018, 2,500 athletes will be competing in a top-class triathlon right through Hamburg.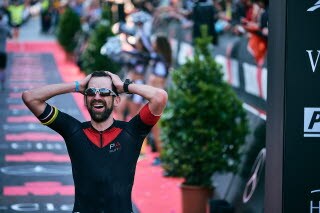 All along the IRONMAN Hamburg route, visitors will be able to experience the excitement surrounding IRONMAN Hamburg. There'll be plenty going on, particularly in the transition zones and at the event centre in the city hall's market square. The centre of the event is the market square outside the city hall with the finish line and an IRONMAN expo, as well as the adjoining Ballindamm transition zone and the athletes garden by St. Petri church.
IRONMAN Hamburg course route
The IRONMAN starts at Alster jetty at Jungfernstieg pier. Participants swim a total of 3.8 km in 2 swimming loops passing through both the inner (Binnenalster) and outer (Außenalster) Alster lakes. The race then continues by bike having passed through the transition zone at Ballindamm. The 91-km bicycle route takes athletes in 2 loops through Hafencity, across the 'Kohlbrandbrucke' bridge and southwards through Niedersachsen via Buchholz to Nordheide and Seevetal. The turning point is on Lombard Bridge. The last stage of the IRONMAN triathlon is the 42.2-km run course around the inner and outer Alster lakes and Hamburg city centre.

You can find the course's exact route at:
Official Race Hotel – Scandic Hamburg Emporio
Scandic Hamburg Emporio is only a hundredth of a marathon away from the start and finish of the Hamburg IRONMAN. From here, it's only about 10 minutes from all the important start, transition and finish zones.
You'll benefit from the following advantages with us:
Breakfast buffet – On Sunday 29 July 2018, we'll already be serving our healthy Scandic breakfast at 04:00.
Shop – You'll find a shop in all our hotels where you can buy gifts, as well as small snacks or a coffee to go.
WiFi – Constant and free Internet access without annoying cables.
PressReader – You receive free access to over 5,000 newspapers and magazines when you visit us.
Online checkout – Avoid the check-out queues by taking advantage of our self-service option.
Fitness room and sauna – You can recover after the race in our women's and mixed saunas.
Room for your bike – You can take your bicycle to your room. There's plenty of room for it and it's also safe there.
Parking – The underground car park with direct access to our hotel has 76 parking spaces and is only 400 metres away. There is also another multistorey car park with 700 spaces (please note that we cannot reserve a parking space for you)
Everything is nearby – specialist bicycle shops, studios for a relaxing massage, and the best running tracks and indoor swimming pools: you'll find everything close by our hotel and our competent team at reception is always happy to help.
The logo is the registered trade mark of the World Triathlon Corporation. Use is authorised.
Book - best price guaranteed