The story of Hotel Norge
Hotel Norge first opened its doors in 1885, and since then has become iconic and one of Bergen's most prominent hotels.

FROM THE BEGINNING
Hotel entrepreneur Georg Pommerenk, who opened the hotel in 1885, was a visionary and forward-looking. He wanted travellers to rest in luxurious and spacious surroundings, engage in intellectual conversations about world news, and enjoy exciting culinary dishes, festivities and art.
It was also meant to be a 'community hotel' for the enjoyment and benefit of the locals in Bergen. Back then, the hotel consisted of 42 rooms, with more than 60 beds and a dining room for 80 people. The hotel was forward-looking and comfortably decorated with 'taste and elegance', emerging as a contemporary hotel.
Although the hotel was not the city's first hotel in European style, it would become the biggest contributor to the development of Bergen's tourism, hotel and restaurant industry. Pommerenk is said to have been the first to provide his guests with a printed guide and map of Bergen – 'Guide to Bergen with a Map of the Town', which he personally distributed to his hotel guests.
Since then, the hotel has been rebuilt and extended several times. In 2016, the hotel was closed for a full refurbishment.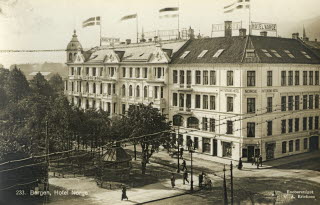 With its unique location at the end of Torgallmenningen square, and close to Byparken park and lake Lille Lungegardsvann, Hotel Norge has always been the focal point in the city's restaurant and party scene. Within the tourism industry, it's considered a hotel with high international standard.
29 June 2018, the hotel reopened as Hotel Norge by Scandic. Our hotel is one of Scandic's unique signature hotels – a modern and iconic hotel with a beautiful, Nordic design. Our hotel offers many distinctive details, and is more than just a hotel. It's a lively meeting point where local meets international in a vibrant and unique atmosphere.
During the refurbishment, we have built a new top floor. With this, our hotel is the largest in Bergen, with a total of 415 rooms, including 17 spacious suites, 3 bars and 3 restaurants divided between 10 floors. Our hotel also has a high-tech meeting and conference department which includes a beautiful ballroom. Just as in 1885, as our guest you'll find a unique and beautiful map with pretty illustrations of 'The best of Bergen' in your room.
Welcome to our iconic Hotel Norge by Scandic!