Autumn in Norway at great prices
Take the opportunity now to fill your autumn with new and unforgettable experiences with up to 35% discount! The discount applies to all weekdays during weeks 40 and 41 (27 September–4 October & 7–11 October), as well as all weekends up to and including 31 January 2020. Book by 18 September.
Visit a new destination this autumn or enjoy a staycation. Fill those crisp autumn days with new experiences for the whole family to enjoy – at an unbeatable price!


Why not visit Bodo this autumn? This cultural town offers unspoilt nature, windswept mountains and Saltstraumen, the world's strongest tidal current. We have 2 hotels in Bodo city centre. Scandic Bodø is perfectly situated in the city centre and is only 5 minutes from the airport. Scandic Havet is an adventure hotel on the quayside in Bodo, where you'll experience spectacular views during your stay as well as great food at our Roast Restaurant & Bar on the hotel's 17th floor!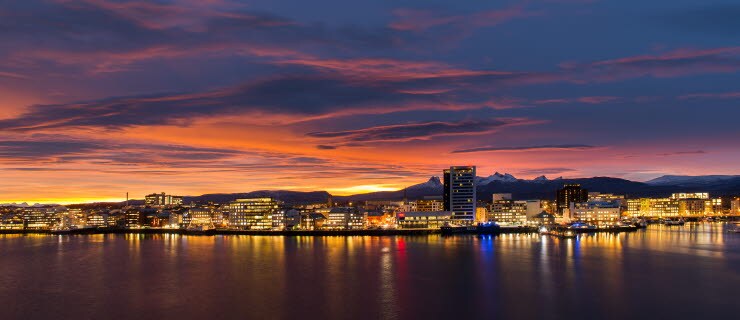 How do I book?
The offer can only be booked online. Look out for the 'Supersave' rates that appear when you choose your hotel and date.
Book by
Wednesday 18 September
When can I stay?
The offer applies to every day of the autumn break period 27 September–13 October 2019, as well as every weekend up to and including 31 January 2020.
How much discount do I get?
Up to 35% discount on the stay (limited amount of discounted rooms available per hotel)
What is included in the offer?
Comfortable beds, Norway's best breakfast and the wonders of the Norwegian autumn
Picturesque villages, fantastic natural scenery, charming towns and fresh ingredients – welcome the autumn in and let yourself enjoy it! Here's some inspiration for where to best experience those crisp autumn days with family and friends.
Oslo
If you like to have everything right on your doorstep, most of our hotels in the heart of the capital are a short walk from the main attractions and activities. Just outside our hotel, you'll find ample public transport allowing you to explore everything the capital has to offer, from culture, history, shopping and night life to the natural wonders of the Oslomarka forest and the Oslofjord islands.
If you want to stay in a central location in Oslo, we have 10 hotels right in the city centre.
Bergen

A mini metropolis known all over the world for its attractions including Bryggen old wharf, the Fløibanen funicular, the aquarium and the unique landscape of its beautiful mountains and fjords. Visit Bergen this autumn and experience an exciting mix of nature and culture.
Tip! Visit Scandic Byparken and enjoy the best breakfast in the Hordaland province, awarded by Twinings Best Breakfast 2019.
Lofoten


Surrounded by majestic mountains towering over white sandy beaches, Lofoten in autumn simply must not be missed. Lofoten offers a huge variety of exciting activities in autumn and our hotels located in Svolvaer and Leknes provide the perfect base for exploring the islands.
Alta


A chorus of autumnal colours reflected in crystal clear waters. Autumn in Alta combines mountain walks, crisp autumnal air, breathtaking colours, and lamb and lutefisk enjoyed with good friends. From the autumnal equinox on 21 September onwards, the chances of seeing the northern lights are just as good as in the middle of winter, so chasing the Aurora in autumn is highly recommended for those who prefer milder temperatures.
The small print

The offer is available from 18 September 2019 inclusive and applies to stays throughout the period 27 September–13 October, as well as all weekends up to and including 31 January 2020. The offer applies to a limited number of rooms and is subject to availability at most Scandic hotels in Norway. The price only applies to online reservations made at our own website. Reservations require pre-payment and cannot be refunded, amended or cancelled.
Your payment card will be charged when the reservation is made. Breakfast is included. This offer cannot be combined with other offers or discounts. Enter your membership number in Scandic Friends when you check in. Reservation conditions