Frederiksberg
Frederiksberg, originally an independent city, is now one of the most fashionable neighbourhoods in Copenhagen. Frederiksberg offers an abundance of shopping as well as Copenhagen Zoo and green oases such as Frederiksberg Gardens and Landbohojskolen Gardens (Royal Danish Veterinarian and Agricultural School's Garden).
Frederiksberg - Copenhagen's green lung
Frederiksberg is one of the districts in Copenhagen with the largest number of green areas. Much of the district is made up of Sondermarken Park, Frederiksberg Gardens and Landbohøjskolen Gardens. Sondermarken Park and Frederiksberg Gardens were inspired by the old French baroque gardens and are ideal for outings on weekends and sunny days. From one corner of Frederiksberg Gardens, you can catch a glimpse of the elephants at Copenhagen Zoo. Landbohojskolen Gardens is part of the University of Copenhagen and today serves both as a centre of learning and recreational area. The many visitors every day can enjoy its blossom, trees and bushes.
Frederiksberg Castle
The highest point in Frederiksberg Gardens is occupied by Frederiksberg Castle, which looks out over the lake. This yellow castle, inspired by Italian architecture, was built in the 18th century. The Danish King Frederik IV used the castle as his summer residence, and Christian VI resided in the castle during the construction of Christiansborg Palace. If you would like to see inside the castle, you can take a tour on the last Saturday of every month, except during July and December.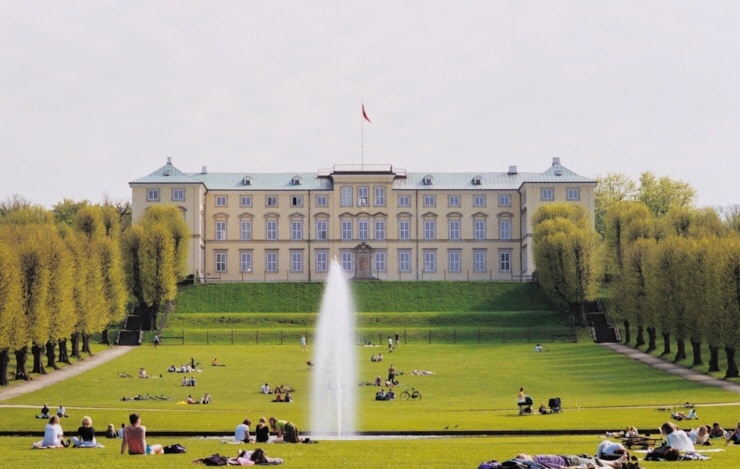 The Cisterns in Sondermarken
Deep below the surface in Sondermarken Park are the old water cisterns. There was an enormous demand for water in the 19th century, and to meet that demand the cisterns were excavated in Sondermarken. Water from the Lakes can be stored here and then pumped up to Copenhagen's residences. Today, the cisterns serve as a fantastic exhibition room where visitors can learn more about a key piece of Copenhagen's history in an atmospheric setting, and see for themselves the huge room where the water was stored.
Shopping in Frederiksberg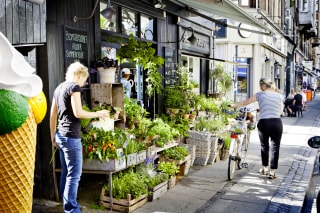 Just like the rest of Copenhagen there's plenty of great shopping in Frederiksberg. Vaernedamsvej, which runs between Frederiksberg and Vesterbro, offers a wealth of small designer boutiques, cafés and restaurants. Gammel Kongevej, considered by some to be the heart of Frederiksberg, offers plenty of opportunity to spend your pocket money. The weather in Denmark is unpredictable at times, so if the sun hides behind the clouds, you can always go for a stroll in Frederiksberg Centre, where you'll find a wide range of shops.
Restaurants and cafés in Frederiksberg
There's not much distance in Frederiksberg between one good food and drink experience and the next. You'll find small cafés jostling with restaurants along Vaernedamsvej and at the finer end of the scale, Formel B and Mielcke & Hurtigkarl deserve a mention. If you have a sweet tooth, stop in at Bertels Salon in Frederiksberg. Their prize-winning cheesecake is well worth a try.
Hotels in Frederiksberg
If you want to give your trip to Copenhagen a touch of style, you should definitely stay in Frederiksberg. Scandic Copenhagen is located right at the edge of Gammel Kongevej, and our hotel is walking distance to everything Frederiksberg has to offer.