Roskilde Cathedral
If your trip takes you to Roskilde, do not miss a visit to Roskilde Cathedral. The cathedral, which is on the UNESCO World Heritage site list, towers majestically over the centre of Roskilde. Roskilde Cathedral is also known as the preferred burial site of the Danish monarchy, and a total of 39 Danish kings and queens are buried in the church.

Roskilde Cathedral - a piece of world heritage in Zealand
Roskilde Cathedral is a beautiful work of architecture characterised by being built in the transition period between the Roman and Gothic periods. If the cathedral takes your thoughts to warmer climes, it is because its inspiration comes from northern French cathedrals. The present cathedral was built in the 1170s, but since then a number of additions have been made. The cathedral as we know it today was finished in 1825.
The cathedral features gorgeous frescos which give an impression of how a church looked in the Middle Ages. In the large main cathedral you'll also find woodcarvings, a gilded altarpiece and a carillon from the Middle Ages. The baroque pipe organ in the cathedral which dates from 1544 is also world renowned. Following extensive restoration which took place from the late 1980s until the beginning of the 1990s, the organ became one of Northern Europe's most important historical musical instruments.
Roskilde Cathedral was included on the UNESCO World Heritage site list in 1995. This list contains the names of sites throughout the world which are particularly worthy of preservation.
Cemetery for Danish kings and queens
Since 1536, Roskilde Cathedral has been the favourite burial site for Danish royalty. In total, 39 kings and queens are buried in the cathedral and you can view the wonderfully ornate tombs in the cathedral. Records show that Harald Bluetooth (940-986) was the first to be buried in the cathedral although they do not state where.
Roskilde Cathedral is open to the public and you are welcome to stroll through this beautiful cathedral. It is however a good idea to check the cathedral's opening hours on the website as the times can vary.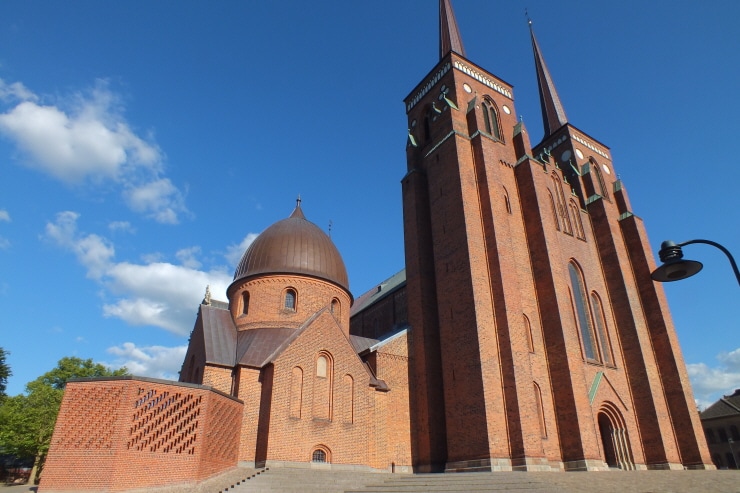 Hotels close to Roskilde Cathedral
Scandic Roskilde is set in quiet, green surroundings close by Roskilde Cathedral. When you stay here you are never far from all the sights and adventures in Roskilde.