Råbjerg Mile
Råbjerg Mile's unusual, desert-like nature cannot be compared to anything else in Denmark. The powerful local winds move the 35-metre high dunes up to 15 metres a year. Experience the powerful forces of nature by visiting Råbjerg Mile.

Råbjerg Mile - Europe's largest migrating dune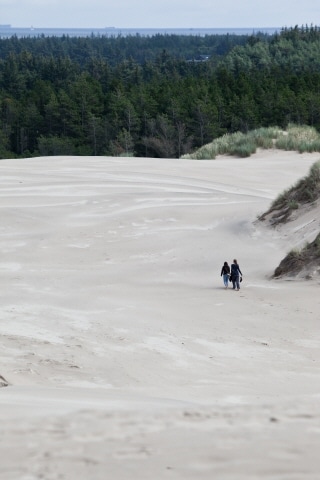 No other place in Denmark offers a natural wonder like Råbjerg Mile. Råbjerg Mile is an impressive sight which covers an area of about 2 square kilometres. The powerful local winds move the 35-metre high dunes up to 15 metres a year. This makes Råbjerg Mile the largest migrating dune in Europe. All along the west coast of Jutland, sand dune drifting has been slowed by sand drift control measures. But Råbjerg Mile is a protected area, so it is allowed to continue drifting freely. However, if left to its own devices, Råbjerg Mile will cover the main road to Skagen in 100 years.
Explore Denmark's 'mini desert'
More than 300 years ago, Råbjerg Mile was formed in the area called Råbjerg Stene. In this landscape, most of which resembles a desert, you can see the sand roll, fly, jump and dance. The sand makes it impossible for vegetation to thrive and grow here.
If you arrive early in the morning, you'll find that the sand absorbs sound, so the silence is overwhelming. If you happen to visit when it is windy, however, you can hear the wind's constant whistling as it whips across the desert-like landscape of Råbjerg Mile.
Hotels close to Råbjerg Mile
If you visit Råbjerg Mile at Denmark's northernmost tip, Scandic The Reef is the ideal place to stay. From our hotel, which is located in Frederikshavn, it takes about 30 minutes to drive to Råbjerg Mile. After a long day of hiking the dune, you can relax in our hotel's huge indoor water park, where people of all ages can enjoy a fantastic adventure.