Skagensmalerne The Skagen Painters
Have you ever been to Skagen? If you have, then you'llhave definitely experienced the special lights of Skagen. It is said that there is a very special quality of light that can only be found in Skagen. It was because of this special light that a group of artists settled in Skagen in the late 19th century. Ultimately, they painted some of the most beautiful paintings we have in Denmark

The Skagen Painters - an artist colony in Skagen
As early as the 1830s, the first of the 'golden age' painters began to discover Skagen - its strong light, beautiful scenery and fascinating inhabitants. Marinus Rørbye and Steen Steensen Blicher were among the first to capture this wild, natural scenery and the harsh living conditions of the fishermen at the time.
The artists began arriving in the 1870s and ended up becoming part of the artists' colony in Skagen, known today as the Skagen Painters. Among the most renowned names were Holger Drachmann, P. S. Krøyer and his wife Marie Krøyer, Michael Ancher and his wife Anna Archer.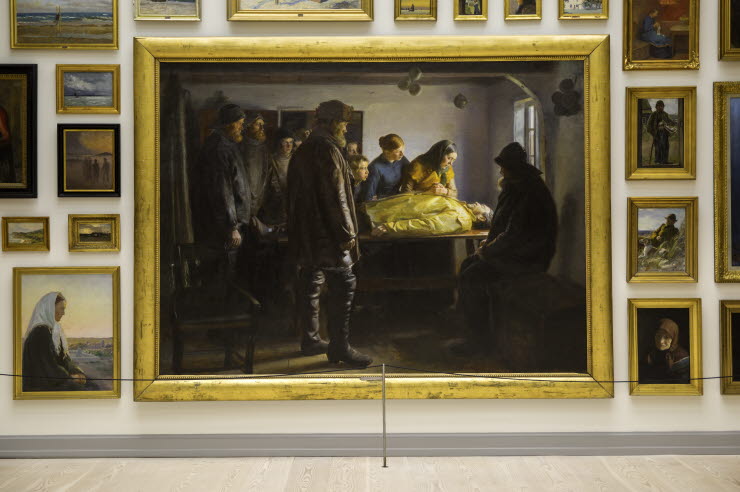 Experience Skagen's painters
If you take a tour to North Jutland and Skagen, do not miss a visit to the Skagen Museum. You'll see the most famous Skagen paintings. You can see Michael Ancher's A Stroll on the Beach depicting five women walking along the beach in the wonderful Skagen light. You can also immerse yourself in P.S. Krøyer's Midsummer Eve Bonfire on Skagen Beach, showing members of the town's upper class celebrating Midsummer. The Skagen Painters are also known for illustrating the harsh life of the local fishermen. One example is Michael Ancher's haunting but beautiful painting The Drowned Fisherman. The viewer is witness to the final farewell by friends and families to a drowned fisherman. The painting with its harsh motif, also expresses the very special light in Skagen.
Hotels in the vicinity of Skagen
If you plan to visit Skagen, we recommend staying at our hotel in Frederikshavn, Scandic The Reef. From here, it is about a 40 minute drive to beautiful Skagen.