Elbphilharmonie Hamburg
Get to know the Elbphilharmonie in Hamburg which opened on 11 January! The city's new landmark combines 3 concert halls, a large music promotion area, catering service, hotel and, not least, a public plaza with fantastic panoramic views over the city and harbour.


CULTURE in the port city of Hamburg
Take a trip to the far north of Germany and discover Hamburg's new landmark. Be among the first to visit the Elbphilharmonie since its opening, and experience the unique flair of its new concert hall. Scandic Hamburg Emporio is the perfect hotel for visiting the Elbphilharmonie.
Scandic Hamburg Emporio is located right beside the Laeiszhalle, Elbphilharmonie's sister concert hall, and besides its central location also offers a view of the Elbphilharmonie from its 7th floor.

Photo: www.mediaserver.hamburg.de / Christian Spahrbier
The Elbphilharmonie may well be the most spectacular concert hall in Europe, with a no less spectacular history of development. Between the very start of building in April 2007 and the grand opening in January 2017, have been almost 10 years of building and development. It has now become a new landmark for the city and attracts visitors from around the world to the Hanseatic City of Hamburg. The Elbphilharmonie was built over the warehouse Kaispeicher A, which was built at the harbour between 1963 and 1966 and used for the storage of cocoa. The Elbphilharmonie is located nearby the historic Kontorhaus district and the UNESCO World Heritage Speicherstadt. The building measures 110 metres at its highest point and not only enriches the city's architectural landscape, but also acts as a cultural meeting place between old and new.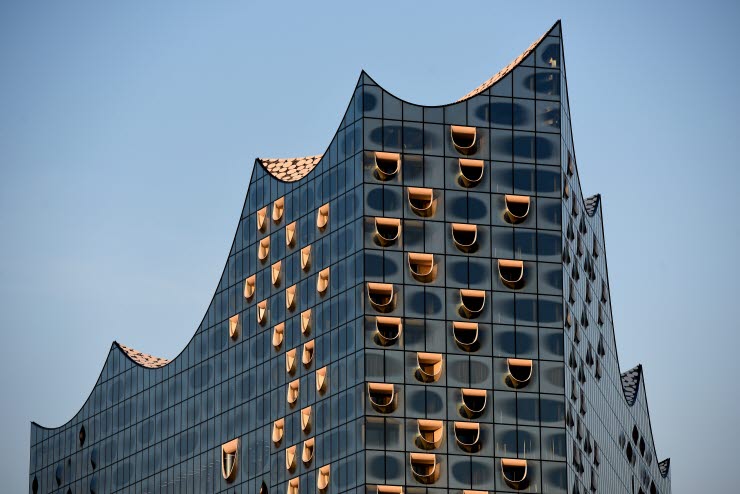 Photo: www.mediaserver.hamburg.de / Michael Zapf
The concert hall
Its musical programme is characterised by artistic quality and diversity. Concerts at Elbphilharmonie take place in the large concert hall, the heart of the building. The concert hall has 2,100 seats, which are arranged as individual terraces around the stage in the middle. Another feature is the unique 'white skin' that was developed especially for the Elbphilharmonie by the internationally renowned acoustician, Yasuhisa Toyota. The skin consists of 10,000 individual gypsum fibre panels, which were arranged precisely to the millimetre to ensure that the sound is projected into every corner of the hall.
The plaza
A highlight for visitors from all over the world, as well as for Hamburg residents, is the plaza, at a height of 37 metres above ground level. Tickets for the plaza can be booked, but can only be supplied on site. The plaza has a spectacular panoramic view over the city and harbour. The viewing platform between the old Kaispeicher warehouse and the new part of the building leads once around the structure and allows you to experience the sheer size of the concert hall. Inside is our hotel lobby and you can also access the concert halls from here. The plaza is open to all visitors to Hamburg, even if they are not going to a concert.