Autumn in Oslo
Oslo in autumn has much to offer in the way of sights and attractions, whether you stay in the city, by the fjord or in the surrounding countryside. Our autumn travel tips are suited to both sunny and rainy days.
Oslo for foodies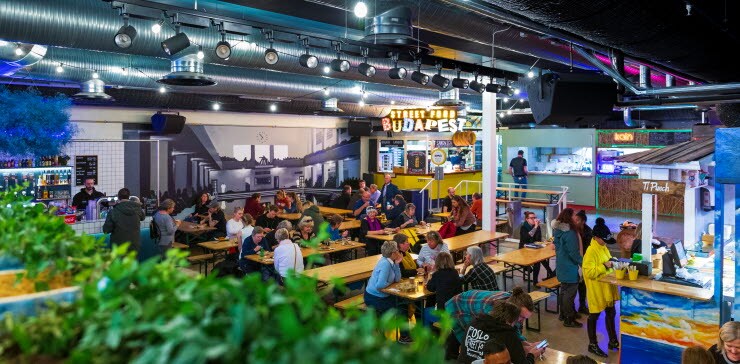 Find hidden gems well worth the detour in a city that's steadily becoming a gastronomic destination. The capital city serves food from every corner of the globe, and at every price.
Eat your way around the world at Oslo Street Food
At Oslo Street Food you can try food from all over the world and its fusion kitchens, served in the 1,800 sqm former public baths, Torggata Bad. Here you'll find everything from Indian, Greek and Filipino, to Japanese and Peruvian food.
Torggata 16, 0187 Oslo
Mathallen – a mecca for food enthusiasts
Scandic Vulkan's nearest neighbour is Mathallen which houses more than 30 individual shops, cafés, restaurants and bars. The focus here is on high quality, offering the best of Norwegian and international cuisine.
Vulkan 5, 0178 Oslo
Maaemo – the world's northernmost 3-star Michelin restaurant
A top-class international eatery, and the only restaurant in Norway to be awarded three stars in the Michelin guide. Maaemo promises a rare and uncompromising eating experience.
Schweigaards gate, 15b, 0191 Oslo
How to see the best in Norwegian and Scandinavian design
Explore Norwegian and Scandinavian design, either to buy or just for inspiration.
Skogen Design
An interior design shop in Gamle Oslo with an exciting selection of vintage designs and furniture, mostly from the middle of the 20th century. Skogen Design also offers Norwegian souvenirs and gifts from the same period.
Schweigaards gate 94, 0656 Oslo
Fuglen Vintage Boutique
An out-of-the-ordinary vintage design shop, right at the bottom of Pilestredet. Fuglen is a café bar by day and a cocktail bar by night, and throughout its opening hours is also a shop. Everything you see is for sale: chairs, tables, dishes and ornaments.
Universitetsgata 2, 0164 Oslo
Pur Norsk
Entirely Norwegian design boutique where all products have a connection to Norway, either in their concept, design or manufacture. Pur Norsk sells everything from modern design objects and personal effects to original curiosities and children's items.
Industrigata 36, 0357 Oslo
When it's pouring with rain

Coffee tasting at Tim Wendelboe
Already well-established in Oslo as a coffee roaster and espresso bar, Tim Wendelboe's goal is to rank among the best in the world at coffee. Oliver Strand from The New York Times Magazine describes the café bar as having "the atmosphere of a local café, but run like a Michelin restaurant".
Grüners gate 1, 0552 Oslo
Float away on a sauna raft
Late autumn has arrived, the days are shorter, the nights longer, the cold creeps up and we draw in. But not all is dark and gloomy at this time of year. Quite the opposite! Now there's every opportunity to get warm and cosy, because over the last few years a wide selection of saunas have opened in Oslo.
Go along to sauna sessions of up to 100 people at SALT.
Hire your own floating wood-fired sauna from KOK.
Astrup Fearnley Museet
The Astrup Fearnley Collection is one of northern Europe's most important collections of modern and contemporary art. The museum also has temporary exhibitions by leading contemporary artists. The Astrup Fearnley museum's collection focuses on individual ground-breaking works, rather than whole epochs and movements.
Strandpromenaden 2, 0252 Oslo
The Well
The Nordics' largest and most luxurious spa and well-being centre spread over 10,500 sqm, with 11 pools, 15 saunas and steam rooms. The Well brings together the traditions of different countries, featuring waterfalls, a Japanese bathhouse with an onsen, an Eastern hammam, rhassoul, outdoor pool, sauna and hot tub, as well as a restaurant with a large outdoor eating area and several bars. The various saunas and bathing facilities offer different temperatures and humidity levels, which all provide different experiences and effects.
Kongeveien 65, 1412 Sofiemyr