Island hopping in the Oslo Fjord
Take a break from the city and explore the beautiful islands about an hour from the center of Oslo. Prepare for a picnic, pack your blanket and some tasty food, and board the ferry heading towards the Oslo Fjord.

Discover idyllic islands around the fjord
If you have a regular Ruter ticket, just hop aboard one of the ferries at Aker Brygge and before you know it you'll be setting foot on one of the beautiful islands. There are so many things to do once you're here. Do you like walking, swimming, sightseeing, fishing, camping, jogging, relaxing or enjoying the cultural scene? Have yourself a wonderful summer experience.
If you're staying at Scandic Solli or Scandic Victoria, you'll have a maximum 5-minute walk to the ferries.
The islands
Hovedoya (Main island) is the island closest to the centre of Oslo. The boat takes 8 minutes from Aker Brygge. Here, you'll find two large beaches on the west side of the island. And if ball games are more your thing, there's a lovely big, grassy field here too. You'll also find the ruins of a Cistercian monastery from the 12th century. In summer, there's a kiosk and café on the island and, in the guest marina, you'll find the à la carte restaurant called Revierhavna Kro. Visitors not permitted to stay overnight or light campfires. Barbecuing is only allowed within the designated barbecue sites and on gravel or sand.
Lindoya is about a 15–20 minute boat ride away. On the south-west side of the island, you'll find two bathing spots with bathing jetties, and in the middle of the island you'll find a shop and a football pitch. The majority of the island's northern section is nature reserve, with protected plants and wildlife. There are around 300 summer huts painted red, yellow or green. Visitors are not permitted to camp or light campfires on the island. Barbecuing is only permitted on gravel or sand.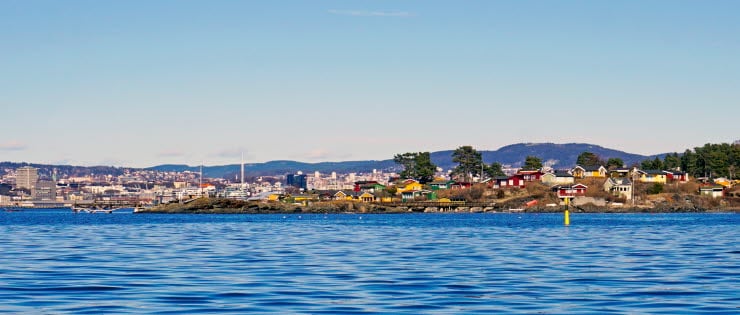 Langøyene is the only island in Oslo where camping is permitted. Here, you'll find a large beach, kiosk, naturist beach (on the southern tip), a sand volleyball pitch, football pitches, and great camping spots. Sometimes concerts and other events are organised on Langøyene.
Gressholmen, Heggholmen and Rambergøya are three connected islands in the Oslo Fjord and have good bathing spots, especially on the eastern side of Gressholmen and the southern side of Rambergøya. On Heggholmen you'll find Heggholmen Fyr – one of the oldest lighthouses in the inner Oslo Fjord. Norway opened its first ever airport for passenger flights on Gressholmen in 1927. Visitors are not permitted to camp or light campfires on the islands. Barbecuing is only permitted on gravel or sand.