Summer in Oulu
Enjoy the bright summer nights of North Ostrobothnia in Oulu. Sense the relaxed Oulu atmosphere in a city that combines a culture-filled city break, good shopping opportunities and perfect peace in nature.
An active summer destination
The marketplace shore (Torinranta) is the city dwellers' living room
The majority of the shops in the centre of Oulu are located along the Rotuaari pedestrian street area. Torinranta, with its Toripoliisi (Marketplace Policeman) statue, is one of Oulu's best-known sights. The market area, the market hall, the terraces and the piers along the shore by the market square attract holidaymakers from morning till evening. Here, you can grab a lunch and head to the Ainola park for a picnic, located in the vicinity of the city centre, or to Linnansaari park, located next to Torinranta.
Beautiful nature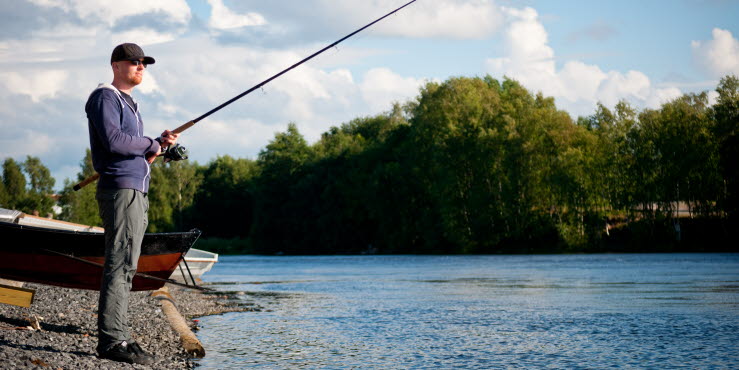 A gorgeous natural attraction, the Koiteli rapids, is located about 30 km from Oulu centre. In the Koiteli recreation area, you can fish, paddle, hike and try rafting. There are also many islands worth seeing in Oulu. The Hailuoto island is located in front of Oulu, about 50 km from the city. The island's long, sandy Marjaniemi beach, lighthouse and many hiking trails ensure a pleasant summer day.
In the mood for events
Many summer events, such as the music events Rotuaari Piknik, Qstock festival and Elojazz, are held in Oulu. The Kaleva Games brings sports lovers into the city in July.

Summer activities
In particular children like a ride in the Potnapekka mini-train, which departs daily in downtown Oulu. From the train, you can see Oulu's most important sights, and the trip only takes about half an hour. The whole family will also enjoy the wide and shallow beach of Nallikari, located about 3 km from the city centre. Thanks to numerous cycling routes and flat terrain, you can also easily get to know the city by bike.


Accommodation in Oulu
Our hotels in Oulu, are situated brillianly in the centre of Oulu.